NBA 2017 Playoffs: Will the Champs be Dethroned?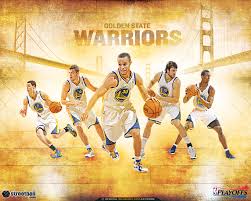 Hang on for a minute...we're trying to find some more stories you might like.
As the current NBA season ends, the world is left in shock and awe. This year was marked as the "Year of the Triple-Double" because this year more players earned triple-doubles than in any year prior. Russell Westbrook led the way with 42, breaking Oscar Robertson's record of 41 in 1962. This year also saw an enormous rise of young, new talent from previously terrible teams. Joel Embiid from the Philadelphia 76ers is a perfect example, regardless of the amount he played this year. When Embiid suited up, the 76ers looked to be a playoff team, going on an impressive win streak and having one of the winningest records in January with 10-3, in large part because of Embiid. He soon went out for the season with a torn meniscus, but it was a shock to the Eastern conference, which had previously been dominated by the Cleveland Cavaliers. Other players impressed as well and hopefully can spark their team next year to a playoff spot. Devin Booker (Phoenix Suns), Elfrid Payton (Orlando Magic), and Nikola Jokic (Denver Nuggets) are just a few players on such teams that outshone the rest of their team. This may mark a changing of guards in the near future as aging teams like the San Antonio Spurs and Cleveland Cavaliers fall off their pedestal. This is for the future, however; now, it is playoff season. After heated fights in the East to secure the final seventh and eighth seed, the playoff picture is now set.
(1)Boston Celtics vs. (8)Chicago Bulls:

No doubt the Chicago Bulls have something to prove in this series. Having just snuck into the playoffs off of a tiebreaker rule against the ninth-seeded Miami Heat, they are no doubt the underdog, but probably more of a surprise is the exceptional play of this small and mixed chemistry-based team in the Boston Celtics. Led by veterans Isiah Thomas and Al Horford, this Celtics team is an underdog also for a number 1 seed. A superior rebounding team in the Chicago Bulls and lockdown defense as well will cause the Boston Celtics, but with their exceptional ball movement skills and great shooters in Isaiah Thomas and Avery Bradley, I expect the Boston Celtics to win in six games.

(2)Cleveland Cavaliers vs. (7)Indiana Pacers:

This is a series the entire world has been waiting for, Lebron James vs. Paul George. Back in 2013, when Lebron's talents were in South Beach for the Heat, he faced off against a strong Pacers team led by a young Paul George who was really hitting his stride. This series went to 7 games with the Heat winning. This time around though it is different. Lebron now has arguably a better team in Cleveland than he had in Miami with Kyrie Irving and Kevin Love, and Paul George has a significantly weaker Pacers team than before, saying that he is the only real consistent scorer on a weak Pacers team. My prediction is that the Cavaliers take the series in 5.

(3)Toronto Raptors vs. (6)Milwaukee Bucks:

Giannis Antetokounmpo. Average leader in points, assists, rebounds, steals, and blocks. This alone for any team is terrifying to face, but their is more. Shooters like Khris Middleton and Rookie of the Year candidate Malcolm Brogdon round out a severely underrated backcourt that is a force. These players, though, are the only threats that Toronto sees. A youthful and rapidfire team in the Toronto Raptors hosts a cast of dual threat players like Kyle Lowry who is an underrated two-way guard, Demar Derozan who has solidified his legacy in Toronto history, single-handedly leading them to this 3rd seed, and Serge Ibaka who was a late year trade acquisition who is an great glass cleaner and stretch four. This series will be a very close one; however, I believe the Raptors take it in 7.

(4)Washington Wizards vs. (5) Atlanta Hawks:

The Washington Wizards this year were arguably the breakout team of the year. Most analysts had them as the seventh or eighth seed at the beginning of the season, but they proved them wrong. A well-balanced team with great offensive potential in both the front and back court with players like John Wall at Point Guard and Markieff Morris at power forward are just a few examples. Stunning teams like the Cavaliers and Celtics throughout the season, if any team is gonna be the team that beats the Cavaliers it's gonna be these guys. There is a problem, though; a big, strong, glass cleaning, rim protecting team in the Atlanta Hawks. Flying under the radar for most the year, the Hawks landed a spot in the 5th seed respectively. Big men like Dwight Howard and Paul Millsap provide exceptional rim protection and allow minimal scoring inside, coupled by a strong leader at point in Dennis Schroeder this team posses a threat. Their only significant problem is players like Dwight Howard and Dennis Schroeder have tendencies to be inconsistent which significantly hurts this team. I predict that the Washington Wizards win the series in 6.

(1)Golden State Warriors Vs (8)Portland Trail Blazers:

Now onto the Western Conference, the arguably " best team in the world" is back with a vengeance. After blowing a 3-1 lead last year to the Cleveland Cavaliers, the Warriors are extremely angry. With acquisitions over the off-season like former MVP Kevin Durant and glass cleaning centers like Zaza Pachulia and Javale McGee, this Warriors team no doubt is stronger than last year talentwise. Coupled with an outstanding backcourt in Steph Curry and Klay Thompson, the three ball has become their greatest offensive weapon. The Portland Trail Blazers fall into the same boat with an outstanding backcourt as well with Damian Lillard and CJ McCollum, both outstanding three point shooters and defenders. This series, although on face value seems like an easy win for the Warriors, the Blazers may be underestimated. I predict the Warriors will win in 6.

(2)San Antonio Spurs Vs (7) Memphis Grizzlies:

This matchup is a slug-fest of veterans. Both these teams have some of the oldest teams on the league, but with age comes experience; for the Spurs, they have just that. Under the tenure of Gregg Popovich, the Spurs are led by a youthful Kawhi Leonard, who is a defensive and offensive threat that can be compared to Lebron James in today's standards. Veterans also play on this team with players like Tony Parker, Pau Gasol, and Manu Ginobili, who will play his 200th playoff game by the end of this series. The Grizzlies however are not to be underestimated. The Grizzlies are led by Mike Conley and Marc Gasol, although are not young but are still getting better as their play continues together. They also have a Benjamin-Button-esqe player in Vince Carter, who celebrated his 40th birthday this season. He looks rejuvenated this season, but this may not be enough for an aging Memphis team. I have the series going in 6 games to the Spurs.

(3)Houston Rockets Vs (6)Oklahoma City Thunder:

The Beard Vs Brodie. The MVP race comes to fruition in this game. Problem is, the Thunder honestly do not deserve to be in this position. Throughout the season they have underperformed when Russell Westbrook is after the court. Without Westbrook they are without a doubt a lottery team. The Rockets, however, are much more diverse. With scorers besides James Harden like Eric Gordon and Lou Williams, it is easy to see who should win this series. This in my mind is the blowout series of the playoffs; going in the Rocket's favor in 4 games, close in all of them however.

(4)Los Angeles Clippers Vs (5)Utah Jazz:

After a certain breakout season for the Jazz with the help of Gordon Hayward and Rudy Gobert, who are finally filling into their frames as All Star potential in this league. Rudy Gobert is the defensive star on this team that will save the Jazz from the Clippers. Averaging 2.6 blocks per game as well as 12.8 rebounds to go with it, he must face off single handedly against a strong Clippers frontcourt in Deandre Jordan and Blake Griffin. The Clippers in this playoffs are another team to watch. With underrated offensive and defensive efficiency, if healthy, this team can take the playoffs by storm. With Chris Paul and Jamal Crawford rounding out the backcourt this team will absolutely dominate a Jazz team if other bench players don't pick up the slack. I have this series going in 6 to the Clippers.