Shea's: A Piece of Buffalo History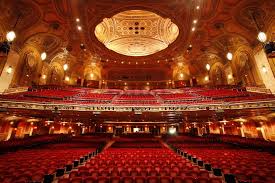 Hang on for a minute...we're trying to find some more stories you might like.
Everyone in Buffalo knows that Shea's Performing Arts Center is the epicenter of the city's talent. Why? Shows travel to the city of Buffalo multiple times each year and give performances every day for weeks to showcase their talent. This month Shea's previewed and began to show On Your Feet! The Story of Gloria and Emilio Estefan. The show features many aspects of the Estefan's track to fame. This included the good and bad times, such as the making of the Miami Sound Machine, and even the tragic bus accident on a Pennsylvania highway. Gloria and Emilio Estefan came to Buffalo to kick off the start of their show's tour. After spending almost two years playing on Broadway in New York City, the show made its first touring spot in Buffalo, New York. Members of the city came together to welcome both the touring cast as well as Gloria and Emilio Estefan themselves. Buffalo so graciously opened their arms to a show that makes memories for anyone who sees it.
Buffalo's own Shea's Performing Arts Center shows a promising lineup for the rest of the season following the three week run of On Your Feet! New Broadway favorites such as Bodyguard, Waitress, Something Rotten and School of Rock will all travel to our city and have the pleasure of performing up on the Shea's stage at various times within the next year. Our city's theatre is an excellent outlet for musicals, plays, and recitals and it is an honor to any Buffalo native to have access to such talent each month.