Ocean's 8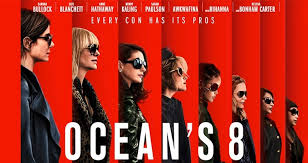 Em Rush, Managing Editor
September 24, 2018
Stars: Sandra Bullock, Rihanna, Awkwafina, Mindy Kaling
Genre: heist comedy
Director: Gary Ross
Run Time: 110 minutes
In a post Me Too world, Hollywood seems to be at odds with itself about what movies are and should be, and how they represent this moment in history. What will future generations remember us as when they read our stories in the history books? When our movies are old classics when our lives are long forgotten? Well, I'd bet that even then people will still love Ocean's 8, just as much as it's loved now.
Straight out of the gate Ocean's 8 caught people's attention. The previous Ocean's trilogy is a beloved and well-remembered movie series, possibly one of the best. And just like its predecessors, Ocean's 8 has the same draws; a star-studded cast, lots of action, and the promise of a smart thrilling adventure. But will Bullock and her new crew be able to pull off the same amount of lovability than was once awarded to Clooney?
Ocean's 8 follows the story of Debbie Ocean, Danny Ocean's younger sister, as she gets out of prison with a single mission and a plan that has taken her whole sentence to perfect. But she is just one woman, and to pull it all off she'll need an intelligent and highly talented crew to help her do it. First, she re-connects with her old partner. Debbie and Lou then search all over New York for the perfect people to complete their group, an out-of-style fashion designer with too much debt, a jewelry maker who dreams of a life outside her mother's traditional worldviews, a computer coder who has more than one trick up her sleeve, a pickpocket who is getting pulled up to the big leagues, and an affluent suburban mom living a double life. Ocean's crew band together to steal a 150 million dollar necklace, off the neck of a notable celebrity during the Met Gala.
While the story seems very black and white, I promise you Ocean's 8 has plenty of twists and turns that you won't be expecting. The characters are vibrant, the action is exciting, and the heist is extremely well thought out. It's a movie that's easy to watch and easy to enjoy.
Watch this movie, or don't. Enjoy this movie or don't. And like always, come tell me how it went. But if you don't watch Ocean's 8, you are definitely missing out.  
About the Writer
Em Rush, Managing Editor
Hello! I'm Em Rush and I am a senior. This is my second year with the Voice and I'm so excited to be involved with the student newspaper. I am the...