The History of 42nd Street
This year's spring musical.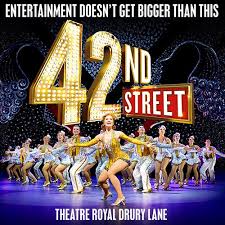 Hang on for a minute...we're trying to find some more stories you might like.
42nd Street is a musical that was originally produced in the 1980s and based on the novel by Bradford Ropes which was adapted for the silver screen in 1933. The show features a large array of music including songs that were written for other shows by the lyricist during the same time period. Even now, new songs are periodically added such as "Boulevard of Broken Dreams" from Moulin Rouge that was added to the 2017 adaptation of the show.
42nd Street was a risk for David Merrick, the show's producer, as it was only the second show that had previously been a movie musical. The other show, Gigi (1974) had been a total disaster and lost a significant amount of money at the ticket box. Besides its original Broadway debut, the show has had five tours around the world in locations such as the UK, China and South Korea, and the United States. It has also been revived in the West end twice.
The show follows Broadway hopeful Peggy Sawyer as she arrives in New York City for the first time. Here she immediately runs into Billy Lawlor, an actor cast in Pretty Lady, who promises to get her an audition in exchange for a date. Unfortunately for Peggy, the auditions have already ended, and it's choreographer Andy Lee is out of patience with Billy's schemes and denies Peggy this once in a lifetime opportunity. Peggy rushes off, upset and feeling alone, where she bumps into director Julian Marsh. Meanwhile Dorothy Brock, longtime Broadway star, also auditions for the same show. Upset that she even had to audition, Dorothy gets the role not only for her star power but also for the financial backing of her rich boyfriend Abner Dillon. Peggy is taken in by Annie, Phyllis, and Lorraine go offer to show her a few dance steps and give her some advice. Julian arrives just in time to watch Peggy dance and offers her a place in the chorus. Julian eventually learns that Dorothy is cheating on Abner with her old flame Pat Denning and he hires some thugs to persuade her to end the relationship in order to keep the show's funding.
The production of Pretty Lady seems to be progressing along nicely until opening night when Peggy trips and accidentally takes Dorothy down with her. Julian, furious, dismisses Peggy on the spot. Dorothy's ankle is broken and it seems like there is no hope left for the show. Until Annie, Lorraine, and Phyllis convince Julian that Peggy could step up to the plate and take Dorothy's role. So Julian rushes off in search of the could-be star.
Peggy accepts Julian's offer but is practically crushed by the stress and pressure of having to learn the role in just days. Thankfully Dorothy appears and guides young Peggy with advice and encouragement about how to face the music on the big stage.
The show goes on to much success, and 42nd Street doesn't end without some romance, suspense, and bumps in the road. It's a great show for folks of all ages to watch and enjoy.
Orchard Park High School plans to debut the show March 14-17 starring junior Sierra Winterhalter. Mark your calendars and stay tuned for more articles following the show's progress along with interviews from the cast.