Dahlin is mean-great draft pick for the Buffalo Sabres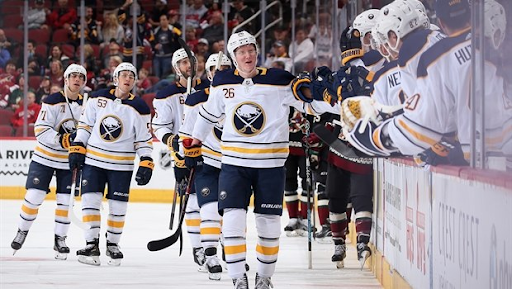 Hang on for a minute...we're trying to find some more stories you might like.
It's a cold March night in Gothenburg, Sweden. Twelve thousand screaming fans fill the Scandinavium to watch the Frölunda HC Indians take on their rivals Skellefteå AIK in game 5 of the Swedish Hockey League quarterfinals. The outlook looks grim for Frölunda as they are down 3-1 in the series. In Sweden, the fans don't sit after the anthem, and a constant buzz accompanied by the sound of a steady drumbeat can be heard throughout the game. That buzz seemed to soften, however,  with the Indians trailing early 1-0. That all changed when 16-year-old hockey phenom Rasmus Dahlin picked up the puck in his defensive zone with 3:35 remaining in the first period. Dahlin evaded two defenders as he weaved his way through the neutral zone and into Skellefteå's end where he would cut back inside leaving two more defenders to crash into each other and then throw on another outside to inside deke in front of the net before firing a shot past the Skellefteå goaltender. In a matter of 10 seconds, a 16-year-old had deked out an entire professional hockey team and finished off the play with a goal. The play would go viral around the hockey world racking up hundreds of thousands of views on YouTube and even more on Instagram and Twitter. Frölunda would carry that same energy throughout the rest of the game-winning 4-1 and eventually coming from behind to win the series 4-3.

Sweden isn't known as a country that produces top prospects. Since 1988 they've only produced one first overall NHL pick compared to sixteen Canadians and six Americans. In Sweden, hockey comes second to bandy, a sport similar to hockey played on ice except with a ball and field hockey type stick. However, Dahlin was drawn to hockey from a young age playing first on the pavement at local parks in Gothenburg and then eventually on ice. He started his career at center and didn't switch to defense until he was 14 which is what he credits for his offensive prowess. The hype was real when he was rising his way through the ranks making his first international appearance on the Sweden U18 team at the age of 15. Eventually, Dahlin was called up to play in Europe's top professional hockey league at the age of 16 for his hometown Frölunda team. He showed early that he could play with the best in Europe with displays of his natural hockey instinct throwing big hits and dazzling dekes what seemed like every game.