Rugby all-star: OPHS junior Kayla Hoch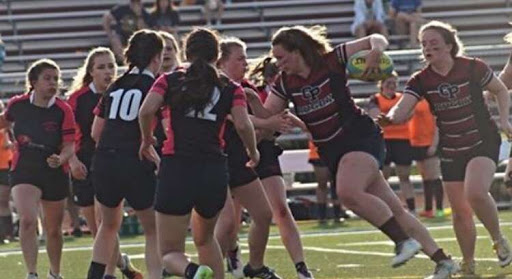 Hang on for a minute...we're trying to find some more stories you might like.
Orchard Park junior Kayla Hoch is a high-demand two-season athlete. Playing basketball in the winter and rugby in the spring, Hoch is constantly training and plays for both Orchard Park teams and outside leagues as well. She started playing basketball for Orchard Park in eighth grade on the modified team and currently plays on the varsity team. Her more impressive feats, however, come from playing rugby. "I currently play rugby for Orchard Park, Western New York Lightning All-Stars, Allegheny Rugby Union, and Midwest All-Stars high school rugby team; [with them] I'm traveling to Florida in 2019," Hoch recently said. During her freshman year of high school, she and the Orchard Park High School rugby team made their way to nationals in Elkhart, Indiana, where they finished third in the nation, and then went to states in Binghamton, New York, where they finished first in the state. During her sophomore year, the team traveled to Nashville, Tennessee, where they finished fourth in the country. Kayla has had impressive feats so far in her rugby career. She was named forward of the game during one of her national games, and was recently promoted to captain of the Orchard Park Rugby team for the 2018-2019 school year. "She's definitely one of the most experienced, and she's only been playing since freshman year. She's caught on very quickly and understands the game very well." said junior Orchard Park Rugby player Emma Albert. Another Orchard Park rugby player, senior Nicole Jackson, also calls Hoch a hard worker, and a team player as well. "She's always trying to make the team better as a whole, and she strives to be the best that she can be," Jackson said. Her rugby coach for the high school team, Lisa Henrich, is proud of her accomplishments. "Kayla always arrives at training with a smile on her face – which always brightens my day.  She is one of the hardest workers, whether it is during fitness drills or skills sessions. She is also very coachable – willing to listen to direction and will make corrections to her play." Hoch is also a stellar scholar athlete, being on the honor roll for two years in a row. Maintaining a both 93 average and 90 average for her freshman and sophomore year, she's proven herself to be both a hard working athlete and student. Whether it be on the field or in the books, Kayla's positive attitude and dedication is everywhere, and is recognized by the Orchard Park Rugby team. "My favorite thing about Kayla is how she greets me with a big smile on her face before every single match, even though she is nervous.' said Henrich. 'I always smile back at her and admit that I also felt that way before every single match – and I tell her to take that energy onto the pitch and continue to do great things."

Emily Lewicki, Entertainment Editor
Emily Lewicki is a junior and she is an entertainment editor. It is her first year writing for The Voice. She's interested in viola, piano and creative...