Ohio State Upsets Michigan, 62-39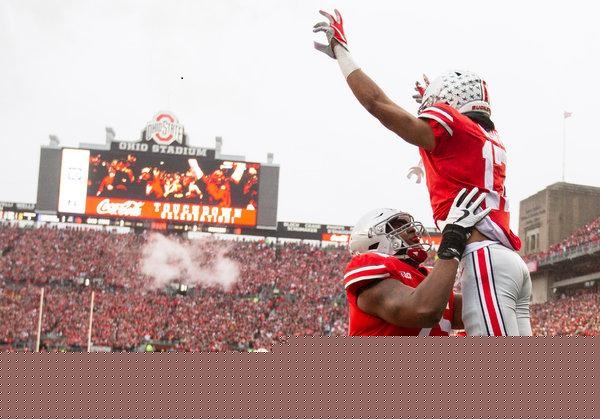 Hang on for a minute...we're trying to find some more stories you might like.
Football has the ability to bring people together―and drive them apart. Growing up in a big college football family, this was a lesson I learned at a very young age.
Thanksgiving is my favorite holiday. Yes, the food is amazing, and it is important to have a day which reflects all there is to be thankful for. But what follows that is truly the best part of the holiday. I'm talking about the weekend of college football after Thanksgiving. Rivalry week. Alabama v. Auburn, South Carolina v. Clemson, USC v. Notre Dame, the list goes on and on. However, one rivalry game is positioned above the others. And that, of course, is Michigan v. Ohio State.
The teams first met to compete in 1897, and with added drama from the Toledo War (a boundary altercation between Michigan and Ohio) a rivalry was born. Every year since 1918, the schools have met with a fiery passion to destroy the opposing side. Both universities have strong football programs, and both are ranked amid the highest in the nation for academics. With this, the rivalry has spread beyond football and beyond the Thanksgiving weekend.
This football game is more than just a game to me and my family. My mom is Ohio State alum; my dad is Michigan alum. But it doesn't stop there. My mom's brother also went to Michigan, and both of my dad's sisters (and their husbands) went to Ohio State. So yes, this football game is a whole family affair. When my brother and I were younger, we used to dress up half and half with some wacky combination of apparel. Then our allegiances formed. My brother took my dad's side and I my mom's.
This year, the Michigan v. Ohio State game, nicknamed The Game, was highly anticipated by those in the professional arena and sports fans alike. Michigan went into The Game ranked fourth in the College Football Playoff Rankings, while Ohio State entered tenth. After a rough season filled with drama from allegations against head coach Urban Meyer, Ohio State was seen as the underdog. Michigan was favored; most sports analysts confidently predicted the team to win. Even Lee Corso, a co-host of College GameDay on ESPN, taunted Ohio State fans by wearing a Michigan helmet prior to The Game.
Everyone was shocked at the performance from both teams this year. Ohio State surprisingly looked the best they have all season as the team shredded through Michigan's highly ranked defense and tore down its offense. OSU's quarterback Dwayne Haskins outplayed Michigan's Shea Patterson throughout the whole game, and Ohio State generally looked stronger in terms of its offense and defense. The predicted winner looked completely inferior next to Ohio State, and the final score was 39-62 as the Buckeyes conquered Michigan for the seventh year in a row.
As far as The Game in my household, this year was one of the best experiences I've had so far. My mom and I were surrounded by maize and blue, and we were the only ones dressed in scarlet and grey. Everytime Ohio State scored, we continued to snicker at the depressed faces around us. Cruel as it may have been, there's no doubt that in the coming years Michigan will eventually beat Ohio State, and then we will have to suffer through the remarks made by family members of the opposing side. For now though, my mom and I are joining Buckeye fans around the world in enjoying a sweet, sweet victory against our most notable, hated, long-time rival.