OPHS senior soccer standout Julia Schurr commits to Canisius College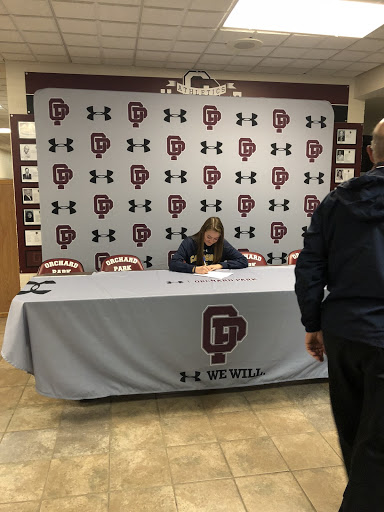 Hang on for a minute...we're trying to find some more stories you might like.
Julia Schurr is a Senior at Orchard Park high school and she has been playing soccer since she was four years old. She was on Orchard Park's varsity soccer team as a freshman and was on JV both in her seventh and eighth grade years. She also plays travel for the WNY Flash team, and she has traveled to play all around the United States. Julia has won many awards.  She is a  two-time ECIC first team member, a two-time Team MVP, she was named team captain.  In addition to this, she was named a Scholar Athlete (2015-18), 2018 All-WNY First Team, and  2018 All-Bee First Team. She decided during her junior year that she would be continuing to play soccer throughout college, but at that time, she didn't know where. Later on Julia decided that Canisius College was the best spot for her.  When I asked Julia why she picked Canisius, she said "I didn't want to be far away from home, it was the perfect fit for me, and I loved their coach." Canisius College's head women's soccer coach Todd Clark had a lot to say about Julia. [From the Canisius Soccer website]: "She is a player with a quality we are very excited to add to our team in that she can play midfield as well as forward; she is a young lady who can assist us in scoring needed goals." Hard work on and off the field really helped in her soccer career. Along with her athletic accomplishments, Julia is also an exceptional student; she in the top 10 of the senior class for Orchard Park.  This drive for excellence will help her continue her success at the next level.