OPHS 2018 grad Danielle Hore continues her hardworking journey at D'Youville College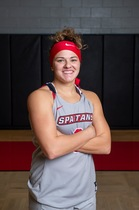 Hang on for a minute...we're trying to find some more stories you might like.
Last girls' basketball season, Orchard Park's team lost one of its most vital players. Danielle Hore's achievements not only reflect her as a player, but as a person. Her commitment and love for the sport inspired many and led her to play for D'Youville College. "Danielle has for sure inspired me. She not only gave me basketball tips but also taught me very important life lessons," junior Grace Taggart shared about her past teammate. On and off the court, Danielle never failed to share what she had to offer to others. Leading her team win the Class AA Sectional title last year, being named MVP, and being the first athlete in the program to have over 100 points, rebounds, and steals, inspired so many more athletes. From Our Lady of Sacred Heart to Orchard Park, she never lost her gift. Not to mention Danielle tore her ACL twice, yet came back stronger than ever. "I'm just very grateful for any and every opportunity I've had to play the game I love," she said, reflecting on her past accomplishments and her future ones. Already named Athlete of the Week and Conference Player of the Week, Danielle isn't close to stopping her amazing streak. Once a Quaker, now a leading Spartan.