Remembering Stephen Hillenburg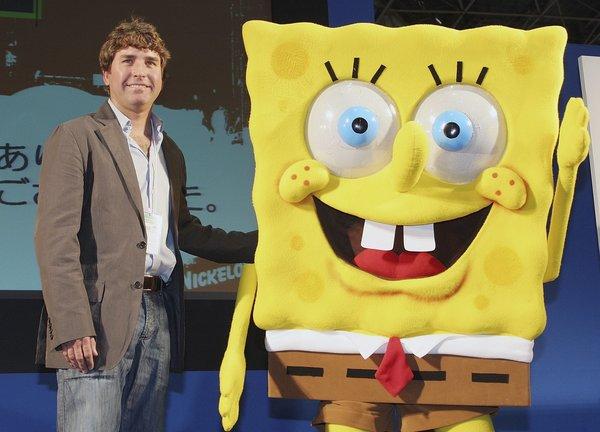 John Schmelzinger, Staff reporter
January 15, 2019
The end of November is supposed to be a time of giving thanks. This year, for those close to Spongebob Squarepants creator Stephen Hillenburg, it was a time of loss and mourning. A few days after Thanksgiving, Hillenburg died of ALS. ALS, or amyotrophic lateral sclerosis, is a degenerative brain disease, that as of now, has no cure. It has affected many famous people, including baseball player Lou Gehrig, former governor Paul Cellucci, football player Steve Gleason, and scientist Stephen Hawking. On November 26, 2018 a comedic genius was added to the list.
Hillenburg was best known for creating Spongebob Squarepants. Surprisingly, the exceptionally popular kids' cartoon was never meant to be on TV.  Hillenburg's first love as a child was the ocean. He was fascinated with marine biology and attended Humboldt State in California to get a Bachelor's degree in the subject. After graduation, Hillenburg got a job at Orange County Marine Institute as a teacher. Hillenburg had major success with his comic book The Intertidal Zone. It was used as a teaching tool for his marine biology students. It had early versions of Spongebob (then called Bob the Sponge) and many of his other undersea friends. Hillenburg's interest in animation started early in his childhood when he was taken to a festival in Los Angeles. For most of his adult life, Hillenburg was on the verge of quitting teaching and making the move to animation, and in 1989 he took the leap. Hillenburg enrolled at the California Institute of the Arts to study animation. He was offered a job at Nickelodeon after graduating, and a few years later developed the show that debuted in 1999 and is still pumping out episodes today. He was nominated for 17 Emmy awards and received two for his work on Spongebob Squarepants.
Hillenburg was also known for his philanthropic nature and quiet but funny personality. During his life he gave money to many organizations concerned with the health of the ocean. He won an award from Heal the Bay for his efforts to bring attention to marine life. He also donated to many schools, including his alma mater Humboldt State. He also started a scholarship called the "Stephen Hillenburg Animation Scholarship," which sends promising young animators to school.
Stephen Hillenburg was an immensely talented animator, creative genius and great man who passed on far too early. He will largely be remembered for his creations like Spongebob Squarepants, but hearing his name should also evoke thoughts of a man with extremely altruistic, friendly and compassionate nature.