2019's Big Name Free Agents are victims of a Period of Smarter Spending in the MLB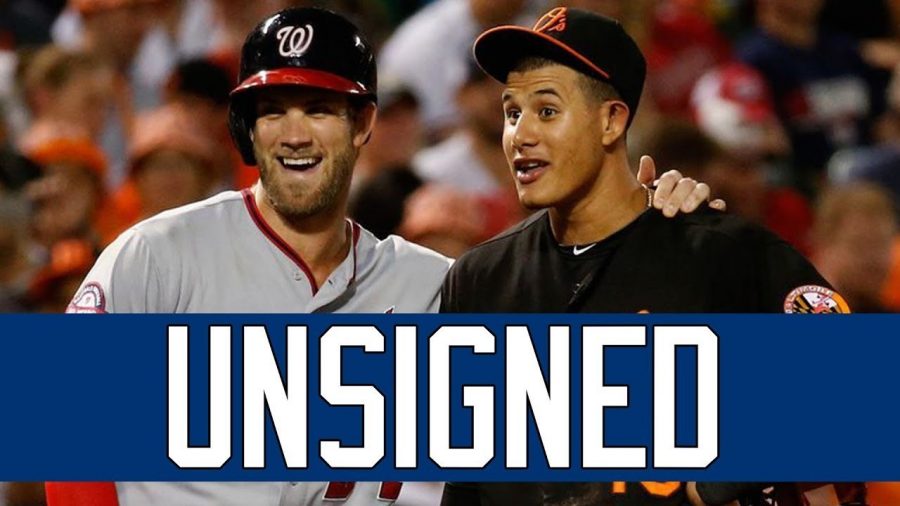 Jack Schmelzinger, staff reporter
February 6, 2019
2019's MLB free agent class is arguably the best baseball has had in years. On the market this year are two of baseball's brightest stars: Manny Machado and Bryce Harper. Machado is a 4-time all-star, and Harper is a former Most Valuable Player. Players with track records like Machado's and Harper's have been handed massive contracts historically, from Giancarlo Stanton's ten year $325 million mega-deal to Alex Rodriguez's pair of huge contracts that added up to over $500 million over 20 years. Harper and Machado are hitting the market in the prime of their careers as well; both are just 26 years old. The stage is set for Harper and Machado to get a major payday.
Recently, though, the MLB free agent market has looked squalid. This became evident during the 2018 offseason. The free agent market was so dry that many great players entered spring training without a contract. When players did sign, it was for well under their expected value. JD Martinez, who had hit 43 home runs with a .330 average the season before, had a hard time finding a contract. Martinez ended up signing for five years and just $110 million. In prior years, those statistics would have warranted a $200 million mega-deal. Just two years earlier, right fielder Jason Heyward hit the free agent market after a season where he hit just 13 home runs with a .293 batting average. He signed for eight years and $184 million. Granted, Heyward provides defensive value, while some would say that Martinez is a liability in the outfield. However, defense is usually not especially highly valued (money wise). 2018's Defensive Runs Saved leader among outfielders is a little known Detroit Tiger named Jacoby Jones who is set to make the league minimum salary this year. The best way to make sense of this shift is to look at the failures of large contracts given recently.
Possibly the most eye-opening cautionary contract tale is that of the Baltimore Orioles and first baseman Chris Davis. After a 2015 season that saw him hit 47 home runs, the Orioles inked Davis to a 7 year $161 million deal. He has been one of the worst players in Major League history since. Last year he hit .168, which is the lowest mark of all time for a player with over 500 plate appearances in a season. Other examples include Pablo Sandoval (5 years, $95 million, since released because of poor production), Jacoby Ellsbury (7 years, $153 million, didn't play in 2018 due to injury problems) and Albert Pujols (10 years, 240 million, Below league average OPS* in 2018 and 2019).
When the failure of these contracts is taken into account, it makes sense why the MLB free agent market has been so underwhelming the last two years. Teams are wary of overpaying for players who are not necessarily guaranteed to produce. Unfortunately for Bryce Harper and Manny Machado, they hit free agency just as the MLB moved toward smarter spending and away from the mega-deal. After all, no one wants to be the fool paying Chris Davis $23 million a year!
*OPS is a statistic that combines how much a player reaches base and how often he gets extra base hits, giving a good estimate how well a player is hitting. It takes power, plate discipline and contact skills into account.