Yankees' Danny Farquhar: extraordinary comeback, extraordinary human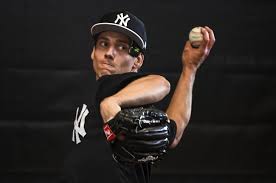 John Schmelzinger, Staff reporter
April 2, 2019
Many would call Danny Farquhar a Major League Baseball journeyman. Solid but not exceptional, he's been employed by four teams over his nine year career, and he is now awaiting a chance with his fifth: the New York Yankees. Under normal circumstances, Farquhar would have had a great chance of making the team out of spring training, but the abrupt way that Farquhar's 2018 season ended largely prevented normalcy in his life or return to baseball.
On April 20, 2018 Danny Farquhar suffered a brain hemorrhage in the dugout of the Chicago White Sox. After facing four batters. he collapsed suddenly, and was rushed to the hospital where doctors found a ruptured brain aneurysm. That is not usually a promising diagnosis. Only 40% of people in Farquhar's situation survive, and just 34% of those survivors live without permanent neurological damage. Amazingly, Farquhar had surgery and was out of the hospital just seventeen days later. Support in the form of tweets from fans and encouragement from fellow players was aplenty for the pitcher, his wife, and three children.
This winter, Farquhar was signed to a low-risk minor league deal by the New York Yankees. He was invited to Major League spring training with an eye on a regular season return to the major league mound sometime after opening day. Because the surgery weakened his skull, Farquhar now pitches with protective gear inside his hat: it protects his skull and temple from balls hit back at him. After pitching just two innings in spring training, Farquhar has been sent to extended spring training, where he will work to get back into game shape, and possibly make his way to Yankee Stadium later this year. Considering the alarming circumstances of last season, Farquhar's return to baseball just 10 months later is impressive and inspiring.