OP Football's strong regular season; now the team looks toward playoffs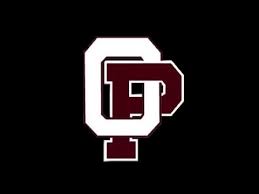 Jason Kincaid, Sports Editor
October 25, 2019
After a successful regular season for the Orchard Park Quakers football team, where they finished with only one loss, I spoke to one of the team's top wide receivers, John Lander. John has played football throughout his entire high school career, but also participates in other school sports such as basketball and track.
I caught up with John before his practice in the school cafeteria a day before the regular season division championship against Jamestown. This would go on to be their first loss of the season but they still ended up as the #2 seed for the playoffs.
JK: What were your expectations as a team going into the season?
JL: Well the expectation was definitely winning a lot of football games and hopefully 
JK: Who is your toughest opponent in the section that could prevent you from going to the stadium?
JL: Definitely the Lancaster Legends. Jamestown's a good team Bennet's a good team but I would definitely say Lancaster.
JK: I remember seeing the updates on Twitter about your comeback win against Lancaster, and it was fun to see.
JL: It was huge; their student section got very mad and they were talking a lot of trash on Twitter, but it didn't faze us. Still came home with the dub.
JK: Do you play any out of section opponents before state playoffs?
JL: Out of our division we played Niagara-Wheatfield ,but no teams outside of Section VI were on the regular season schedule.
JK: So only in the state playoffs is when you'll play teams outside of WNY?
JL: Yes, that is correct
JK: Individually, what did you expect from yourself, and how are you performing?
JL: I had pretty high expectations coming into the season just trying to be the best I can be, and trying to be that number 1 guy at receiver, and I think I've been pretty good leading the team in receiving yards and receiving touchdowns so, so far so good.
JK: Are there any current injuries on the team holding you back from full potential?
JL: Definitely; there's been unfortunately a number of injuries to key players like our starting running back Steve Kulikowsky, and just this week Mike Pataky went down with a concussion, Jacob Strycharz on the line-he's supposed to come back, Alex Rojas…but once we get those guys healthy and our team at full strength, we're gonna be a team to be reckoned with.
JK: What are your practices like to prepare for games week to week?
JL: Coach is doing a great job structuring the practices for each week depending on who we're playing and giving us good simulations in the scout offenses and defenses of what we're going to be seeing and it really helps us prepare for those in game matchups.
Do you have any pre game rituals or other superstitions?
JL: Before every game we always do this special chant. I'm pretty sure it's from a movie but I can't say which movie it is, but we always have Matt Wagner say it before every game and that always gets us hyped up. 
JK: Do you have any plans of playing football after high school?
JL: I would love to, but I gotta keep my options open with track and football…I haven't really made up my mind of what I really want to go for, but right now I'm leaning towards football.
JK: Thank you for your time, that is all the questions I have.
The Quakers open the playoffs with a home game against Hutch Tech on Friday October 25th, at 7:00 p.m. be sure to make an appearance to show your support.