Lynne Dixon on Her Campaigning and the Upcoming Election for Erie County Executive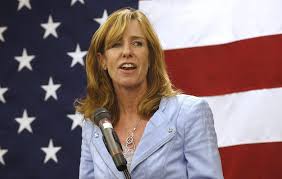 Jake Morris, Staff reporter
October 25, 2019
Lynne Dixon is hoping to shock Erie County and upset eight-year incumbent Marc Poloncarz as Erie County Executive this November. After a few debates, tons of fundraisers, and many public appearances, her whole campaign comes to one moment, Election Night-the night where citizens of the United States take advantage of our democracy and make sure their voices are heard with a vote for an elected representative. The campaign process has been long and very tiresome for her and everybody involved, but it will be worth it to her in the end if she can grab the position. Dixon agreed to an interview within her own home in the Village of Hamburg, where she discussed her mindset and the entire campaign process.
JM: Why did you decide to run for Erie County Executive?
LD: Well, uh, a number of reasons. I thought that county government had become less focused on the people and more focused on politics and partisan victories, and I didn't like that. I felt the private sector had been left out of the conversation, and I wanted to change that. I wanted to fight for what is right for the community and not politics.
JM: How do you balance the campaigning and your personal life?
LD: I don't Jake, I have a lot of laundry to do. I have always believed with campaigning you need to keep your friends and family close. You need the people in your life who give you that unconditional love and check on reality. While I go to a lot of events in the morning and nights, I make time to go to my kids' sporting events, drive them to activities, make their lunches for the next day, and have dinner with them when I can. I always make sure there is time in the day for my family and close friends.
JM: Who  is an important voting bloc for you? Is there a group of voters that is traditionally harder to convince?
LD: The city typically votes Democrat, so that is a community that would be traditionally difficult for me to win. A lot of the first ring suburbs, Cheektowaga, Tonawanda, West Seneca, are important communities to reach out to because they may be Democrat-leaning towns, but they have shown more of a willingness to vote for the person and not the party.
JM: Where are most of your donations coming from?
LD: I have raised over half a million dollars. [This money has come from everywhere]. Some business people in the community have written me larger checks, but some contributions are smaller five dollar ones. The contributions have come from all over Erie County in all sizes and are political sides.
JM: How can an undecided voter speak with you about an issue?
LD: I have a campaign website called votelynne.com, where they can ask questions through email.
JM: In your view, what makes an effective campaign ad?
LD: People say that they don't like negative campaigns, but negative ads have been proven to work in the past. Having said that, I have always maintained I would not go down that road first, and I didn't. My preference would be to stay positive while pointing out things I could do better. For me, what absolutely doesn't work is personal. It's fine in my opinion to discuss issues and how you handle those issues or priorities, but delving into someone's personal life is very inappropriate and wrong.
JM: What's the most difficult part of fundraising?
LD: Honestly, I would say it's much easier to call and ask for money for a cause or somebody else. The hardest thing is to ask for money. The other challenge is I'm up against an eight-year incumbent. In eight years as County Executive, he is able to raise a lot of money. I started as a legislator with $14,000 in my campaign account. He started as a county executive of eight years with half a million in his account. That is a big mountain to overcome already, but I would say there are a lot of people in the business community that are interested in giving to me. There is always concern about what retributions they might face by a sitting county executive who doesn't like to see contributions made to his opponent.
JM: How do you compete with Poloncarz with a much smaller budget?
LD: I think you have to be smart in the way you do it. We had to get out earlier. For example, we went on digital and  TV before he did.
JM: Are you recognized in public? What is that like?
LD: I am recognized in public. I would say I was recognized for a long time as a reporter, but over the last few months with the advertisements I am recognized more than I was in previous years. The feedback is mostly positive that I get from people. I enjoy the company of others, and I enjoy people, so I welcome having conversations with them.
How do you answer criticisms about associations you may have had with Chris Collins?
LD: They are lies. I point to the fact that he has never given me a campaign contribution. I point to the fact that I have voted independent of him on a number of occasions. I can point to the fact that it is simply not true, and I have talked to Marc Poloncarz more in a week than I have to Chris Collins in eight years. My political consultant that keeps getting criticized has never been accused, charged, or convicted of any crime.
LD: For young people who want to enter politics, what experiences should they seek?
LD: Work on a campaign. I think that's very important. Not only work on a campaign, but bring other life lessons with you to the table. For example, someone who has worked in politics since they were 18 years old, sometimes they don't understand what it is like to run a business, or to face a union walkout, or whatever. I think you need life lessons to help mold your policies and help you in your decision making. Working on a campaign is very valuable as it will prepare you for what's to come as invariably, it's going to be negative, and you will be attacked. You have to be prepared to withstand those punches being thrown at you.
While the campaigning process is long and grueling, there is hope it will all be worth it in the end for Lynne Dixon. She put in a lot of effort along with many of her friends and family to get the opportunity to win the election. If you are interested in the race, make sure you get out and vote for whoever you believe is the best candidate. Election night is Tuesday, November 5, and it will signal who the next Erie County Executive will be.