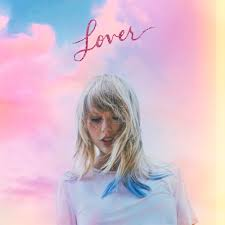 On August 23, 2019, Taylor Swift finally released her long-anticipated album, "Lover." The album cover itself is iconic, but let's face it, what about Taylor Swift isn't iconic? Taylor started her musical career in 2006 at 14 years old with  her first, self-titled album. This album catalyzed an epoch of widespread adoration. She rose to fame quickly, attracting fans of all ages to her relatable music. Her songs connect with people on a personal level, making her music so enjoyable. Now 29 years old, Ms. Swift never fails to impress with her new music. As a fan of her old country style, I do prefer the occasional "Picture to Burn" and "Teardrops on My Guitar." However, this doesn't stop me from having an extreme music marathon to her new jams. 
Lover started with the tease "ME!", a collaboration of Taylor Swift and Brendon Urie of Panic! At the Disco. This song gave energetic vibes of pastel dreams and imperfect love. To be honest, this song was confusing. The line "spelling is fun"? However, this probably did connect with English teachers struggling to make spelling enjoyable! "The Archer" was next to be released to fans, a slower, more meaningful piece. The majority of her music is about her breakups and this one specifically hits on that. She has "been the archer…been the prey", meaning she has been on both ends of a breakup. Both of these songs and Taylor's endless Instagram teases made fans salivate at the thought of her new music. They were about to be hit with a wave of unexpected greatness.
The album starts off with "I Forgot That You Existed". First of all, what a classy title, dissing whoever this song may be about from the get-go. As she was hung up on this breakup for so long, one day she woke up and forgot to be sad about it. This song was a bold start to the album, but bold is most definitely Taylor Swift's middle name. The namesake of the album "Lover" comes next, bringing a wedding song style. This depicts the life of a couple very much in love, sharing every aspect of their lives. The line "have I known you twenty seconds or twenty years" brings a sense of the irrelevance of time when one is in love. These two songs are polar opposites, but both bring a different sense to love and forgiveness.
Personally, I would love to know where Taylor finds these great song titles. "Miss Americana and the Heartbreak Prince" comes next with definite high-schooler relatability. In high school, every relationship seems like the best thing and when it ends, so does the world. She talks about the cliques and social hierarchy of her high school. However, whoever this "heartbreak prince" was stood up for her, and it felt like "them against the world." During this song, her more somber lines end with an energetic exclamation. For instance, "They whisper in the hallway, 'she's a bad, bad girl' (okay!)." She leaves behind the gossiping and focuses on those who truly care for her. This song is followed by a more mature expression "Paper Rings." It starts with an 80s karaoke club vibe, and Swift's voice sounds muffled. However, the song is upbeat and sends a beautiful message. Her theme is that material items don't matter when it comes to true love. The chorus line "I like shiny things, but I'd marry you with paper rings" proves that all the diamonds in the world can't buy real connections between people. These two songs mirror each other in the way that Taylor has a relationship that is not for anything except true love. This truly was a song to make one believe in relationships.
Taylor Swift brought a whole new level of awe-inspiring music to the industry that is raw and genuine. She doesn't use song-writers or an insane amount of auto-tune to create her masterpieces. She is undeniably original and real with the world. My Baby-Boomer grandfather, my Gen X parents, my Millenial swim coach, and I, a Gen Z-er, are all Taylor Swift super-fans who are inspired by her rise to fame. Her music will continue to impress the generations to come.