Donald Trump Gets Booed During Game 5 of the World Series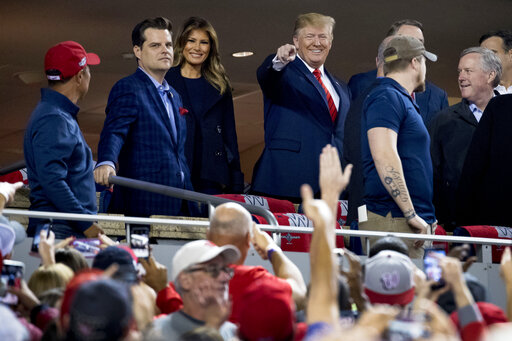 Fiona Gibson, Staff reporter
November 15, 2019
Other information from Politifact:  https://www.politifact.com/facebook-fact-checks/statements/2019/oct/28/facebook-posts/trump-did-not-threaten-rename-white-house-astros-a/
President Donald Trump was booed during Game 5 of the World Series between the Washington Nationals and Houston Astros at Nationals Park in Washington, DC that took place on Sunday, October 27.  At the end of the third inning, the Jumbotron cut to the President standing and waving to the fans across the stadium.  Immediately, the stadium erupted with boos and shouts of "lock him up!"This came as a shock to many people, because just hours earlier, President Donald Trump announced the death of Abu Bakr al-Baghdadi as a result of a United States military raid of Northeast Syria. 
"I don't really understand why they would boo the president when such a good thing happened that day, even though it wasn't just the President to thank for that," said Orchard Park senior Abbey Black.  
Not only was the booing shocking to many, it was also very controversial.  Many think the President of the United States should be given more respect.  
"The office deserves more respect than that," said Mr. Lexner, a government teacher at Orchard Park High School.  
Although many disagree with the booing, the recent impeachment inquiry and Trump's consistently low approval ratings led a few Orchard Park students to be pleased with what happened.
"I think he deserved that," said Seth Gerwitz, an Orchard Park junior.
"It's really funny that an entire stadium had the same opinion on him," said sophomore Sophia Quagliana.  
This was the first major league game Trump attended since he took office in 2017.  He was offered the ceremonial pitch for this game, but he turned it down to avoid a disruption.
Mark Lerner, the Washington Nationals' principal owner, picked José Andrés to throw the first pitch.  This was a very interesting pick given that Andrés has publicly criticized Donald Trump in the past, and he is an immigrant from Spain.  Unfortunately, the Washington Nationals lost 7-1 to the Houston Astros during game 5 of the World Series, though they did up winning the World Series.  Americans continue to discuss the controversial shouts of fans during Game 5 and what this means for Trump's presidency and potential reelection.