OP Student Eliza Klos Takes on Cancer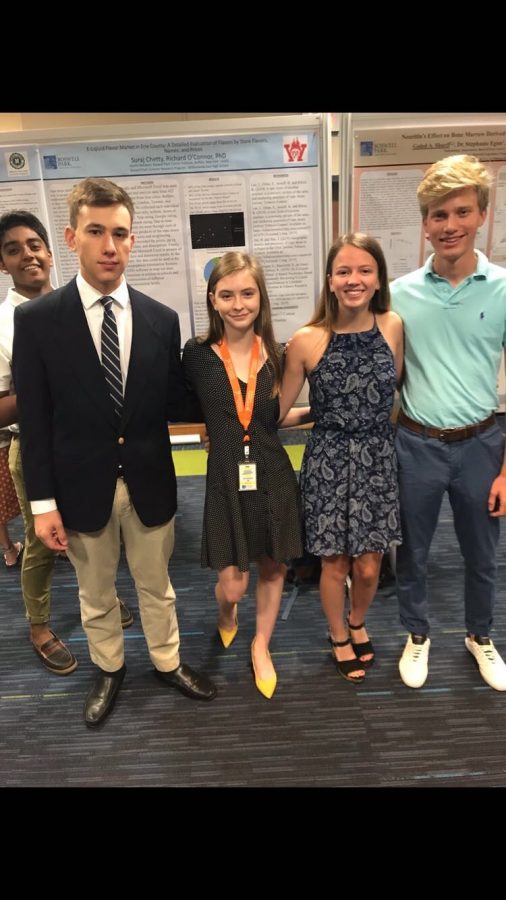 Jason Kincaid, Sports editor
December 2, 2019
Over the summer of 2019, Orchard Park senior Eliza Klos participated in an internship that allowed her to conduct independent cancer research at Roswell Park Cancer Institute. In order to be a part of this program, one had to be chosen for it after submitting an application. Eliza was one of only 25 students across New York to be picked to participate. Being a part of this program was a serious commitment as it was seven weeks long with forty-hour work weeks. 
Eliza spent most of this time in her research lab working on her cancer research project. In order to be prepared for this work, she was required to go through many types of training and classes. Along with just her research project, she was required to submit and engage in other assignments including oral presentations, bi-weekly abstracts, and a research poster. Overall, the time Eliza spent at the internship was always very busy.
The type of cancer that Eliza studied over the summer was Mantle Cell Lymphoma (MCL). This is a type of cancer affecting the lymphatic system that is extremely resistant to many available treatments. The goal of Eliza's research project was to find an effective way to treat resistant cases of MCL. A possible solution to the problem of resistance could be found in a protein known as Noxa, which plays a crucial role in cell death. 
When the cancer cells are exposed to the traditional treatments that kill the cancer cells, the Noxa protein triggers a reaction from another protein known as MCL-1 which promotes the survival of cells, therefore preventing the traditional treatments from working. Eliza tested ways to "knockdown" Noxa, which means limiting the sequence that codes for it and therefore cause the cells to produce less of the protein. 
The method to perform this knockdown was known as electroporation. During this process, the cells would be shocked, opening pores to allow a genetic material known as siRNA to enter the cells' nuclei. Ideally, this material would bind with the cell's existing genetic material making the RNA sequence for Noxa unreadable, therefore causing the cells to be unable to produce Noxa. 
Unfortunately, the results of these experiments were largely unsuccessful. This did not mean that all of the research was a total bust, however, as this concept still has a chance of working. The program leader, Dr. Kisailus stated that, "80% of all scientific research fails".  Seven weeks was simply not enough time to test all the variables, including the voltage and the amount of siRNA of the electroporation procedure. Part of Eliza's research was included in a published medical research paper.
Despite the busy workload given through the program, there was still time for making new friends and being able to see them outside of work. On the weekends throughout the internship program, there were several times when Eliza and the other student researchers were able to go to places like Darien Lake or Niagara Falls so they could get to know each other better.
Eliza stated that she "learned so much from this experience." She believes that "one of the most important personal things [she] learned was how much [she likes] oncology." Eliza is currently considering oncology as a profession.