New York Representative Steals Spotlight During Impeachment Hearings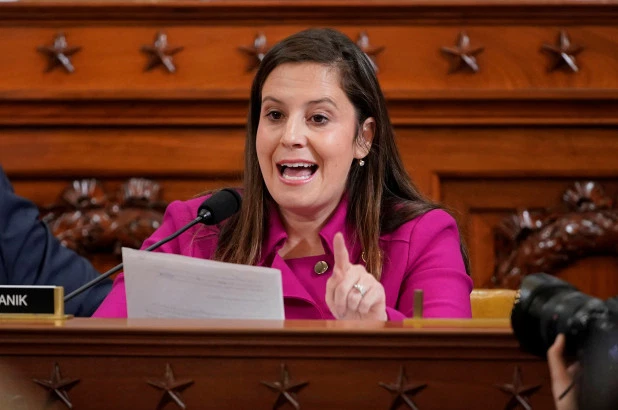 Amidst a whirlwind of allegations regarding the actions of United States President Donald Trump and Ukraine President Volodymyr Zelensky, an unexpected individual has gained attention from her current role in the impeachment hearings.
Representative Elise Stefanik, a Republican congresswoman from New York, has secured a new following from her contributions made on Capitol Hill within the past week. 
As the only female Republican on the House Intelligence Committee, Rep. Stefanik took no shame in calling out Chairman Adam Schiff, the Democratic Representative from California, for his role in the impeachment process.
During Friday's hearing, in which former Ukraine Ambassador Marie Yovanovitch testified in front of the committee, Rep. Stefanik continuously questioned Chairman Schiff and accused him of suppressing her voice on the basis of her political affiliation. 
"Will the chairman continue to prohibit witnesses from answering Republican questions, as you've done in closed hearings and as you did-" she said, before being interrupted by Schiff.
"That is not a proper point of order. The gentlewoman will suspend," he said.
The Congresswoman, a 2006 Harvard graduate, has gained attention as a result from her stern interaction with Chairman Schiff. Stefanik even received recognition from President Trump himself.
"A new Republican Star is born. Great going @EliseStefanik!" he affirmatively tweeted.
Some individuals are speaking out with similar views to those of Rep. Stefanik. Madeline Roberts, a senior at Orchard Park High School, expressed her concerns with the impeachment hearings.
"I think everyone really has to look at and consider both sides before they start to yell 'impeach!'" she said.
"I think [the impeachment inquiry] is wasting everyone's time and resources that could be used on actual issues," added Maya Henderson, another Orchard Park student.
Despite the positive attention she has received, Rep. Stefanik has also encountered much criticism in the past few days, especially from her Democratic counterparts. Since Friday, Tendra Cobb, Stefanik's Democratic challenger, has raked in over $1 million in campaign donations. Contributing to these funds were model Chrissy Teigen and actor George Takei, who asked for their supporters to do the same.
Despite the surfacing of negative opinions in regard to Rep. Stefanik, the congresswoman has undoubtedly made tremendous marks in her field, and it is unlikely that her political career will end anytime soon.
About the Writer
Abbey Black, Editor- in - Chief
Hi! My name is Abbey Black, and I am the Editor in Chief of The Voice. I joined The Voice at the beginning of my junior year when I became a News and Opinion...