OP girls' cross country wins the section for the first time in 15 years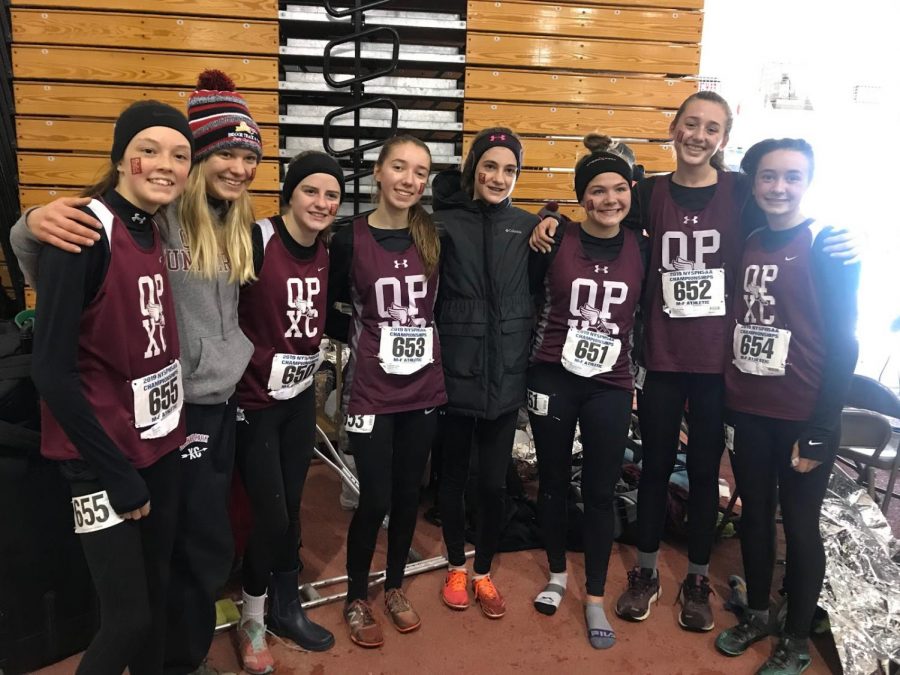 Chloe Ippolito, Staff reporter
December 2, 2019
For the first time in fifteen years the Orchard Park Girls' Cross Country team won their section championship and were able to travel to the States meet in Plattsburgh. The top seven girls on the team qualified to run in the meet, including junior Olivia Ippolito. 
Olivia has been running cross country since seventh grade where she was on the modified cross country team. However, her initial love for running began in elementary school when she was a part of the program "Girls on the Run." Although she has come a long way from her Girls on the Run days, the program sparked her love for long distance running.
Olivia has been a varsity runner since freshman year and has remained the third position runner on her team of 38 girls.  Each year her personal record has improved. Currently, her 5k personal record is 20:30. 
This season Olivia's goal was to make it to states, after last season the Orchard Park Girls narrowly missed the first place section win. "It was exciting because last year we were ten points away from the other team to make it to states and this year we won," Olivia said.
She explained that she's been so successful in her cross country career because, "I went to all my practices and I pushed myself in every workout."
Cross country takes mental and physical strength, because not only do you need to have the endurance to keep going, but you must push yourself mentally to keep running through the pain. 
Cross country runners face challenges such as uneven courses and sometimes poor running weather. This years state meet unfortunately dealt with freezing temperatures, ice, snow, and mud. Emma Eisenhower, a sophomore who ran in the meet says, "States was a very good experience as a runner, but it was a hard course that pushed you mentally and physically. I pushed myself to limits that I've never pushed myself to, but in the end it all worked out well."
In addition to the girls qualifying as a team, Jack Heraty earned a spot as an individual. 
The rest of the cross country team showed overwhelming support for the states qualifiers, said senior Andrew Kasper.  "The thing that I love about cross country is that it's really a team sport, so we all encourage each other and watching our girls team go to States was really cool. Even though we didn't, we got to be excited for them."
This year's meet was especially exciting because it was the head coach, David Wert's, last season coaching Orchard Park Cross Country. Jackie Ippolito, a parent in attendance, notes, "It was exciting to see Coach Wert and Dillsworth help the girls' cross country team win a division title and earn their spot at the State Championship meet this year. It was especially meaningful this year since it was Coach Wert's last year coaching."
Coach Wert received his first section win with the Orchard Park Boys Cross Country team in 2004. Therefore, he's able to end his coaching career with both a boys' and girls' cross country section win. 
Assistant Coach Dillsworth plans on continuing Coach Wert's legacy as the head coach of Orchard Park Cross Country, hopefully with more section wins to come.