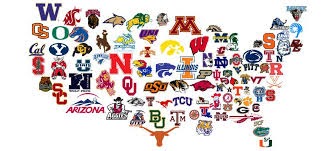 Hannah Flynn, Staff reporter
March 9, 2020
As a senior at Orchard Park High School who is ready to embark on her new adventures behind high school, I began to wonder how other seniors were feeling about their new adventures to come. Recently I was accepted into my dream college, Point Park University, and I couldn't be more thrilled. Once I received my acceptance letter, I started to wonder where others in my position were getting accepted. 
I am going to Point Park as a dance major.  I am going to receive my Bachelor's Degree in Fine Arts. This has been my dream for years, and was just an obvious yes for me. So, I wondered how others were choosing their path after college. To be able to say that my dream is becoming a reality is unreal to me. I couldn't be more excited to be soon living my dream; I began to hope that my classmates were going to be able to do that as well. 
Aiden Jones, a senior in the Orchard Park High School graduating class, began to explain his decision regarding his future. He will be attending St. Bonaventure University in the fall for accounting and will play club hockey on the side. Jones thought that St. Bonaventure was a great fit for many reasons. "[It is] very accommodating for [my] major, and [has]  a lot of opportunities for outside school. Both of my parents also attended St. Bonaventure, and they have always told me such great things about it." said Jones. The next top question that is on every senior's mind, is, are they really ready to leave high school? Jones responded with, "Yes. I am very excited for a fresh start with new beginnings, but will of course miss all the friends I grew up with at school."
Mackenzie Fischer, also a senior at Orchard Park High School, had all good things to say about the school she would be attending this fall, which is SUNY Geneseo. She will be attending as a business major and is committed to the Geneseo Swim Team. Mackenzie said, "I'm excited to continue my athletic career swimming for such an amazing school." When it came to why Fischer chose this route, it was very clear. "I am very interested in business communications and wanted to be able to make a living out of it like my parents have," Fischer said. Mackenzie is also one who is ready for a new start at college. "Yes, I am so ready to experience new things, train with a whole new swim team, and ready to have new opportunities for growth to enhance my future," Mackenzie said. 
Both of these seniors at OPHS have chosen two different paths, and are in one way very connected. Their parents have been such amazing role models for them that they have decided to pursue careers in the same direction as their parents have. They both are taking after their parents' footsteps.
Chad Gloss, also a senior at OPHS, was more than ready to talk about his future. He plans on attending SUNY Erie to major in Criminal Justice and play Junior College Football. "I want to be able to help make the world a better place by becoming a police officer after college," said Gloss. Chad, however, later explained how he doesn't know if he is really ready to leave high school. "No, I am not very thrilled to leave high school because I will miss all the friendships and relationships I have created throughout my life so far. And most of all, I will always miss playing football for high school."
Dylan Ambrosio also falls in the category of more than ready for the next chapter in his life. He, the same as Aiden Jones, will be attending St. Bonaventure University in the upcoming fall season. He will be a finance major who will also be bowling for the university. "I chose finance as the major I wanted to pursue because the stock market is something that has also interested me, and I love to work with people and money. I'm also so excited to continue doing something else that I love and has always been a part of my life, which is bowling," said Ambrosio. Dylan couldn't be more excited to depart from the high school and take on his new chapter. "I'm really looking forward to more free time and being able to have more freedom for the next four years," explained Ambrosio. 
All of these very accomplished seniors couldn't be more thrilled to embark on new adventures doing what they love. They have all made these decisions for themselves and are more than ready. They are happy to begin a new chapter of their life and create new friendships that could last a lifetime.  Although, of course, they will never forget their experiences and friendships made at Orchard Park High School.