Miss Americana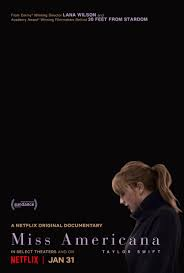 Jason Kincaid, Sports editor
March 23, 2020
On January 31 of this year, Taylor Swift released her Netflix documentary Miss Americana, where she told a story about struggles she has had to deal with and how these struggles have inspired her to let her voice be heard in an effort to help other people. Along with this, the documentary also details aspects of her personal life and her music. Specifically there is a lot of focus on her most recent album Lover. 
The beginning of this documentary is about Taylor's early life and how she just got started in the music industry. When she first began, she was following the advice that everyone told her. She was told to just be a nice girl, make music, and keep her opinions to herself. What stuck with her the most was that she was told to not be like the Dixie Chicks, who were essentially kicked out of the industry after saying at one of their concerts in Europe, "We're ashamed that the President is from Texas". They were speaking about George Bush at the time. The reason this impacted Taylor so much was because she loved the Dixie Chicks and looked up to them growing up, and hearing that she shouldn't be like her idols was difficult. After years of following this advice, she just couldn't stay silent any longer despite knowing it may ruin her career. Marsha Blackburn was the leading Senate candidate, and Taylor found her policies to be a step backwards for women's equality. She used her voice as a powerful celebrity woman to speak against both Blackburn and President Trump, while giving her support to the Democratic candidate in Tennessee. This was not enough, as Blackburn still won the election. As expected, she received a lot of backlash from critics, but she remained unfazed and continued to push her opinions forward with new songs like You Need to Calm Down, and The Man. She even featured the Dixie Chicks on her song Soon You'll Get Better. 
Another topic Taylor addressed was the slandering of her reputation and how it first affected her compared to how she learned to deal with it in a better way. One of the most "iconic" moments of Taylor's career was when Kanye West interrupted her award acceptance speech in 2009 just to tell her that she should not have won. The crowd began to boo him; however, Taylor thought that they were booing her, which prevented her from being able to finish the speech. A few years later it seemed like they got past that when Kanye asked Taylor if he could use her name in a line of one of his songs, and Taylor agreed. What he did not mention was that he would be insulting her and taking credit for her fame. When Taylor spoke out against it, Kanye and Kim Kardashian went on a rant, calling Taylor a snake and turning their fans and the rest of the media against her. Unlike 2009, however, this did not slow Taylor down; instead, she embraced the hate, and on the Reputation Stadium tour, she put up a huge snake statue at all of her shows. 
Taylor's songwriting is a focus in this documentary as well. When she was just a kid trying to get signed to a record label, she knew that something had to make her stand out in the country music area of Nashville, so she wasn't just another singer. To stand out she wrote her own songs in a storytelling style that could capture the emotions of any listener. This impressed a man named Scooter Braun enough to a point where he created Big Machine Records just to be able to sign Taylor. Unfortunately, as she continued to increase in fame, he refused to give her the rights to her own songs. This began her fight for artists' rights to their own work. She left Big Machine Records and began a process of re-recording all of her songs so she could get the rights to them back. In addition to this, she kept the 1989 album off Spotify because of the unfair deal about giving artists royalties to their songs, and withheld from putting her music on Apple music until artists got paid royalties when their music was downloaded on the free trial. This new outspoken version of Taylor scared her team at first, as many artists who stand up for certain rights lose their careers, and despite receiving some hate and losing fans, seeing a celebrity like Taylor act like a real person and show real feelings strengthened an already unbreakable bond between her and her "Swifties."
One final struggle this documentary showed Taylor dealing with was the cancer diagnosis of her mother Andrea in 2015. Andrea Swift has always been her daughter's biggest supporter and has been by her side through all the tough times she has had. Even in the early stages of her career, Taylor showed the appreciation she has for her mother by writing a song about her called The Best Day. Her disease was going through remission, but in 2019, it came back. In order to spend more time with her mother, Taylor will not go on a big concert tour for her last album and is limiting it to a few shows.
It takes a special kind of person to do what Taylor Swift has done in her life and career. To learn more about her in more detail, watch Miss Americana on Netflix; it won't disappoint. Taylor  Swift is arguably the greatest female artist of all time, and it is a very interesting process to see how she got there. With the documentary Taylor's new song, Only the Young was released as well.