Leah Pasqualetti on Her Pole Vaulting Success and Plans for the Future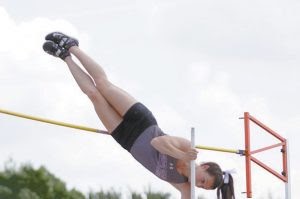 Madeline Roberts, Staff reporter
March 31, 2020
Leah Pasqualetti is an Orchard Park senior bound for Kent State University in the fall. She is not the average high school senior, however, because she holds the national record for the highest high school girls' pole vault for this season. Leah is making a name for Orchard Park through her success. She has no plans of slowing down next year at Kent State, either. Her drive and dedication to her sport are remarkable. 
Pole vaulting is definitely a niche sport. What made you decide to try it? 
LP: In seventh grade, I did varsity track with my older sister Lena. We didn't have any pole vaulters back then, but we did have a new coach who knew a lot about the vault. Coach Mancabelli is the man who started Orchard Park's pole vault dynasty. He helped coach a handful of us from scratch. He chose athletes he thought would be promising in it based on speed, strength, and gymnastics ability, and then he taught us everything he knew starting with the very basics. I credit him with being the reason I got into pole vaulting. Without his positivity and support I know I never would have had the opportunity to try, let alone continue, this far. I am very thankful for the program he grew and all the time and dedication he gave to help get all us vaulters off on the right foot. 
What encouraged you to stick with pole vaulting? 
LP: Looking back, there were a few things that became the reasons I grew to love the sport. First and foremost, there were the teammates I met through pole vault. We were so close, and they made practices fun. I also found it was rewarding to work hard at a new craft. I enjoyed how much there was to learn. Additionally, I thought of it as a refreshing change of mindset from gymnastics. At pole vault practice, the focus is always on making the next vault just a bit better than the last as opposed to gymnastics where every skill was compared to perfection.  
In addition to Coach Mancabelli, who has been the most influential in helping you achieve your athletic goals? 
LP: Success doesn't happen in isolation; that's almost a mantra in the pole vault community. There are many people who have been especially supportive these past six years. It's hard to pinpoint only one person. My parents and family for sure have played a huge role. My dad and grandfather have been by my side since the beginning, and my mom has taken on the role of my nutritionist, which is an aspect of training that is equally as important as conditioning- so for that I am forever grateful to all of my immediate family. Then there is my pole vault family, Coach Mike and Lynn Auble in Warsaw. I spend hours and hours with them training, and it's hard to describe just how much their dedication has influenced my career. They have opened their lives to me and have let me be a part of their world. Aside from being phenomenal coaches, they have served as life mentors throughout this journey. It has proved critical to have such a wide network of support in my corner because pole vaulting has just as many low points as it does victories. I am also thankful for my school coaches, Coach Lardo and Coach Tundo for their wise insight and witty humor. And of course there are my teammates whose love and friendship help make even the hardest workouts fun. 
What do you think makes for a great teammate? 
LP: That's a great question. I think that what matters most is being kind. It's always great to have teammates who push you, but that's not what matters the most. No one truly cares if you are an Olympian or a first-year track runner on a modified team. What I think matters the most is someone's character and how they carry themselves. Honesty, loyalty, resilience -those traits matter so much more than any title you could win as a team. 
It sounds like you exemplify those qualities! Can you describe your most memorable race? 
LP: One thing many people forget is that track is a team sport. To win a meet requires everyone to do their best in each event they do. No one can run every event, but together we can do incredible things. Sometimes that means sacrificing a favorite event to run an event that the team needs you to do. That is what made our 4×100 meter relay so special last year. We had made it to States, but each [person] had individual events we could have focused on. Instead, we made the relay our focus. I distinctly remember how sunny it was that day, and the songs we listened to before our race (Knock Knock by Mac Miller). All odds were against us. We were just a relay thrown together out of necessity, going up against schools that recruit and bring together the best sprinters from thousands of girls who had former Olympians as their coaches. Yet, when the starting gun went off, it felt like we were invincible. All of our handoffs were great, we placed second, and we broke our section record! I will never forget how we all ran across the field to the finish line after our legs of the race and jumped into each other's arms. 
Breaking the section record is no small accomplishment. What were you feeling in the moments leading up to your race, and how do you calm your nerves before a competition? 
LP: Track meets can be very long, up to six or seven hours sometimes, so staying focused is important. It definitely helps to be part of such a fun and close team. Time really does fly when we are together. We cheer for each other and watch the other events as we wait for our turn. We sometimes play cards or listen to music. Things like that both help us to stay relaxed and focused and also build bonds and close friendships. I really enjoy being at the pole vault pit and cheering on the younger girls. It helps to relax nerves when you are with your friends, and track is a very special sport because it's like everyone is one big family. It doesn't matter what school you're from, we are all just trying to beat our best times and heights. That's what makes focusing easier, the thought that we are all in this together and we are all here for each other. 
Your race results prove that the time you spend practicing really does pay off. What does a typical day of training look like for you? 
LP: I train six or seven days a week, sometimes double practices in a day. Before each practice, I spend about 30 to 45 minutes warming up. Warm-ups are very important to me because they help build skills and prevent injuries. I usually do some form of cardio then dynamic stretching. Every training day is different because I have two hard conditioning days, three lifting days, three vaulting days, and two cross-training workouts a week. Today after my warm-up, I did pole drills and form running. Then I did my running workout for the day on the track then vaulting and then my weightlifting program. I really focus on my cool down, too, because that is one way I keep my body healthy. I find it is super important to foam roll and stretch every day as well as hydrate and eat nutritious foods to recover from a day's work. 
How do you balance academics and athletics? 
LP: A very wise pole vaulter once told me that life is like a juggling act, and all the things in your life that you care for are like the balls in the air -family, God, school, sports, friends- they are all being balanced. But everyone has a limit to how many balls they can juggle. So when you realize you might have to drop a few, that's when you realize as long as you catch the ones that matter most, you are balancing things to the best of your ability. I really like that analogy because I have found it is very true; there's not a lot of time for extra things other than what really matters. Training takes a lot of time, so I really have had to work smart when it comes to getting my homework done, especially because losing sleep really isn't an option as that would hinder my ability to perform. Ultimately, I focus on what's most important to me, and that's how I've been able to balance school and sports. 
I am sure such a successful athlete and dedicated student had several great college offers. What made you realize Kent State was the best school for you?
LP:  Thank you for asking. I feel very blessed that through hard work I had the opportunity to look at many schools across the nation. Since pole vault is so intricate, there are many layers to a program I was looking for -somewhere I could take my training to the next level, but in a healthy way. I visited Kent at the suggestion of Jenn Suhr (see more about Jenn at the Buffalo News https://buffalonews.com/2020/02/17/olympic-pole-vaulter-jenn-suhr-of-fredonia-finishes-second-in-indoor-nationals/). I immediately found why she enjoyed training there. Most importantly the team felt like a family in every way. Kent State is special because they recruit athletes based on character. The vaulters, in particular, were the type of people who I hope to be when I grow up, and that had a huge impact on me; they were so confident, dedicated, happy, and poised. Also important in the pole vault is the relationship one has with their coach, as communication is a vital aspect of success in such a risky sport. Coach Lawson, their head coach and pole vault coach, is someone I feel comfortable trusting my training with. He puts his athletes first and makes safety his priority, but he also emphasizes following your dreams and helping you get there. I looked through every aspect of many renowned track and field programs across the country, and none of them compared to Kent's. I didn't want to be looked at purely for conference points, and I didn't want to go to a school where track is treated as a second-class sport. 
What do you plan to study at Kent State?
LP: I plan on studying either pre-med, biology, or pre-law. 
What are you hoping to achieve athletically at Kent State? 
LP: I want to try and help the team in every way I can. I don't know how far I'll make it athletically, but I do know that for as long as I'm healthy I am going to work hard to try to improve. 
You have a very positive mindset. How do you think pole vaulting has impacted you in other aspects of your life? 
LP: Pole vaulting has taught me to be very disciplined especially in my social life. I have a very regimented sleep schedule and with schoolwork, that doesn't allow for much time with my friends. One example I like to use is leaving school dances early so that I am my best for practice the next day. But that is just one of many times things like that happen. Also, pole vaulting definitely impacts the way that I eat. I stay away from processed foods and empty calories. I guess what I'm trying to say is that I would eat more ice cream if I weren't a pole vaulter. But on a serious note, it has taught me that hard work does pay off -all of those sacrifices amount to something even if you don't see it right away. 
What advice would you give to somebody who wants to try pole vaulting? 
LP: Pole vaulting is a very demanding activity that requires huge amounts of dedication, sacrifice, and discipline. But with that being said, I would encourage every little girl to try it. I would tell them to fight through the hard parts because everyone struggles through the beginning (and through the middle and end, too) but understand that it is part of the great adventure of life. Everyone starts somewhere, and nobody knows who the next Olympian will be, so why not have fun trying? 
Leah Pasqualetti took a chance on an opportunity presented to her in seventh grade that led to exceptional success. Her optimism is infectious and inspires those around her to work harder. Leah is the embodiment of what Orchard Park stands for: passion, enthusiasm, and teamwork. 
Hopefully, Orchard Park's Class of 2020 will be remembered for people like her. Stay tuned, because Leah is just getting started.