Hockey Star Finds Ways To Look Past What He Lost Due To CoVid-19 And Celebrate His Future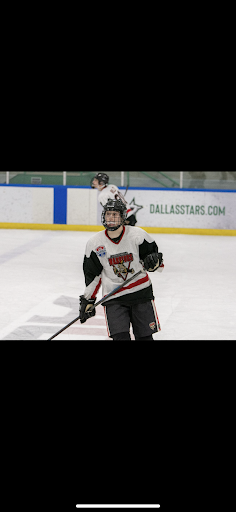 Hannah Flynn, Staff reporter
March 31, 2020
Bryson Miller began his hockey career at the young age of four. He has been playing travel hockey for as long as he can remember. He has also been playing hockey for Orchard Park for six years. Miller was recently getting ready for the New York State Championship tournament with his travel team, the Cheektowaga Warriors, when he received the horrible news: His travel hockey career would be immediately cut short due to the deadly virus CoVid-19. Miller now has no choice but to focus on his future and what will happen to his hockey career next.
When did you start playing hockey? Why?
BM: I started skating when I was four and started playing the game at age five. My dad got me into the game. He would always have me try out new sports, but when I tried hockey, I fell in love with it.
Where did you begin skating/playing hockey?
BM: I played house league at the West Seneca Town Rink. 
Who has been one of your role models?
BM: My whole life I have looked up to Patrick Kane. He grew up in Buffalo and played at the same rink I did, which gave me hope in the fact that anything can happen.
What has been one of your greatest accomplishments? 
BM:  Well, two of my greatest accomplishments were winning Nationals in Plano, Texas for my travel team, the Cheektowaga Warriors, and winning the Section 6 title for Orchard Park FED.
Do you prefer travel hockey or hockey with the school?
BM: They are both equal to me because of the friendships that I have gained from both. I will have these friendships for a lifetime, and I couldn't be more grateful.
How did you and your team react to your states being canceled due to coronavirus? 
BM: We were very heartbroken and sad that we didn't get a chance to defend the National Title that we won last year.
Since you and your team had such a great year last year, what did you expect out of states this year?
BM: We expected to win States again and have a chance to attend Nationals again in Anaheim, California. 
What would you have done differently this year had you known your season would have been cut short in this way?
BM: We probably could have taken every game and practice more seriously considering it was our last. 
How do you plan to rebound from this and continue your hockey career in the future?
BM: I will be playing for the Buffalo Junior Sabres, hoping to advance my career to the next level for the future. 
What are your goals for the upcoming years? And what do you plan to do with hockey? 
BM: Within the next couple of years, I hope to be playing junior hockey. Then, after those years of playing hockey, I hope to be playing college hockey. 
Bryson Miller has been playing hockey for the majority of his life so far, and he does not want it to end just yet. He has been influenced in many ways to continue to play the game he loves. Hockey is a major part of his life and always will be. Considering the fact that his State Tournament and Nationals was canceled due to CoVid-19, he was able to realize what great things are in the future. It will be hard saying goodbye to a team he has been playing with for years so soon, but the best is yet to come. Taking his hockey career to the next level playing as a Buffalo Junior Sabre will help shape him into the great hockey player he has wanted to be.