Self Made: The Story of an Unlikely Entrepreneur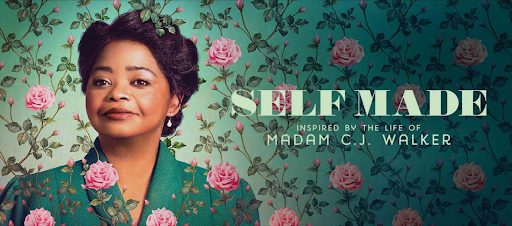 Megan Keane, Staff reporter
May 20, 2020
(https://www.emmys.com/events/fyc/2020/self-made)
Netflix series "Self Made: Inspired by the Life of Madam C.J. Walker" was released to the public on March 20, 2020. This short series of only four episodes, displays the life of Sarah Walker, portrayed by Octavia Spencer. Walker was a daughter of former slaves, and she built a business empire around a century ago to help black women take care of their hair. This series mainly sticks to Walker's adult life, where she experiences the pressure of working as washerwoman. She was also living with her second husband at the time, who was an angry drunk who hits her and calls her names. This causes her hair to fall out. Walker found a way out of her not-so-glamorous life when the gorgeous Addie Munroe came knocking on her door to sell her hair product to help her hair grow. She began replicating Monroe's hair formula and started her own company. This company would eventually be called The Madam C.J. Walker Manufacturing Co., which would be named after her third husband, who was portrayed by Blair Underwood. Black women's hair is considered to be an important part of their culture. One of Walker's goals was to help make black women feel empowered by helping to grow their hair. "Sisters, sisters! Let's talk about hair. Hair can be freedom or bondage. The choice is yours." In this scene, Walker tried to encourage women to use her product to help give them confidence.
Throughout the series, there is a cultural and symbolic weight of black women's hair that is touched on but is certainly not heavily emphasized. The directors went for more of a good old-fashioned entertainment series rather than a full biography of Walker's life and work. The series displays the history of her business in a drastically condensed version. There is not much screen time that is given to truly display the work Walker did to grow her successful business empire. There were different plots in the series that were emphasized more than Walker's work to create a juicy drama. These plots included a lesbian affair for Walker's daughter, Leila, and the unfaithfulness of her third husband C.J. Walker to their marriage. It is clear that this series was made more for entertainment rather than to display the true history of America's first wealthiest self-made black woman.
An appropriate viewer age group for this series is anyone from the high school age group and on. Although this series displays quite a bit of historical content, there is also the use of profanity and foul language throughout it, making it suitable for a more mature audience. This series definitely dragged on during some parts, but it is worth the watch because it is entertaining, yet it also presents the historical story of an influential and successful businesswoman in American history.