"Ferris Bueller's Day Off"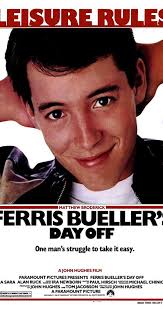 Grace Taggart, Staff reporter
May 20, 2020
Ferris Bueller's Day Off came out in June of 1986. It is a classic movie featuring actor Matthew Broderick as Ferris, who steals the show by skipping school because he was "sick."The movie starts with Ferris laying in bed and telling his parents he doesn't feel well. This scene sets the mood for the movie and Ferris's amusing personality. Jeanie Bueller, the younger sister of Ferris, emphasizes her hatred towards her brother, but in the end, she saves him.
Director John Hughes, has the brilliant idea of creating a storyline that keeps the audience's eye to the screen throughout. Ferris starts his day by inviting his best friend Cameron to come along with his very eventful day. Ferris uses his convincing personality to get Cameron to agree to take his father's Ferrari out for the day. Bueller then makes a risky call to his high school to get his girlfriend Sloane out of school for the day. The principal, Ed Rooney, plays an excellent role, by keeping the audience on our toes whether or not Ferris will get away with this skit. He explains to Mr. Rooney that Sloane's grandmother has just passed away. 
Mrs. Bueller comes home from work to check on Ferris and is fooled by a mannequin. The three high schoolers skipping school decided to make their way down to Chicago to explore the city. John Hughes does a great job by changing scenery from a small town to the city life of Chicago. 
The day in the city starts with a luxurious lunch, where Ferris got them in from using his persuasive personality again. They then make their way to a Cubs game, and they somehow end up in a box. Throughout the day, John Hughes adds different shenanigans to keep the story even more eventful. The three kids almost run into Ferris's father throughout the day and keep it interesting.
The last event in the city is Ferris being a part of a float in the parade and the famous "Twist and Shout" song. This scene makes the movie. Other things happen throughout the day, such as Mr. Rooney going to the Bueller house, and a Ferrari being crashed. Ferris uses his sneaky skills to get back in bed quickly at the end of the day to act "sick." 
This movie covers all aspects of being a well-conducted comedy. The characters all played their people perfectly, and the idea of having shenanigans throughout that didn't drag the movie on. Some might not like this movie at all because they might just see it as a student skipping school and lying to his parents. Ferris Bueller's Day Off is a great go-to movie and is a perfect example of a classic 80s movie. 
This movie is still somewhat relevant. It is a well-watched movie on Netflix, and all generations still continue to watch it. Some may get sick of it because there isn't much of a storyline, but it is a great watch.