The Current State of Buffalo Sabres Hockey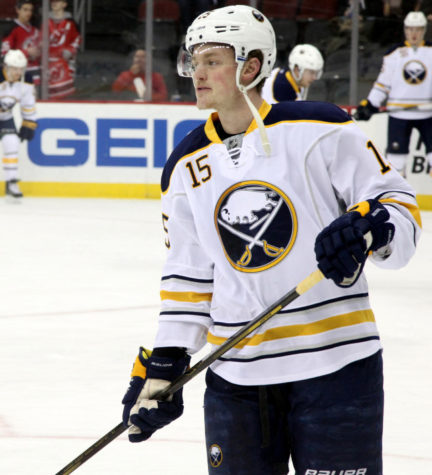 The Buffalo Sabres fired coach Lindy Ruff in 2012 after a 6-10-0 skid, and since then the team's future has been constantly put under a microscope. Fast forward to 2021, and the team has since parted ways with a current total of 7 head coaches. On March 24, the Sabres set a franchise record with a losing streak of 14 games. With a new GM and a strong young line-up, it would seem the team has a future to look forward to. However, it is almost the opposite. Over the offseason, the Sabres agreed to terms with Taylor Hall on a one-year 8 million dollar contract. With this, it seemed as though Buffalo was in a "win now" scenario. As the season has progressed, it seems as though they are back to where they were two years ago: The Rebuilding Stage. 
The Sabers took Jack Eichel with the second pick in the 2015 draft, and a few years later he was promoted to captain. The team and the city put their future on Eichel's shoulders and, to an extent, he delivered. In the 2017-2018 season, he scored 28 goals. The following year, he improved with 36 goals in 68 games played. The easiest route for the franchise would be to build around a young all-star like Eichel, but it seems as though they are taking a different route. On March 23, Yahoo Sports reported that the sabers would trade Eichel for 4 first-round picks. This seems to be an attractive deal, but Eichel is a generational talent. In any year, he would have been taken first, if it were not for All-Star Connor McDavid who was taken just before Eichel. In the NHL, most players do not impact the team in their first years. If the Sabres got a team's first-round picks for 4 years, then the team would be in a great state by 2026. 
The team needs to be more player-driven. They have Sam Reinhart and Rasmus Dahlin, who the rest of the team can easily build around. The players need to respect their coach and the system that they are in, and they need to start planning for the future. They have already done this by trading away Eric Staal to Montreal and Jonas Johansson to the Avalanche. At this point in the season, the team has a very small chance of making it to the playoffs. By stocking up on picks and getting rid of guys with one year left on their contracts, it will give the team something rather than waiting and getting nothing. For Buffalo to get back on track, the team needs to tank now and build around a new coach and an existing set of players. It won't be easy, but in order for the Sabres to attract star players, they need to be bold in their moves and playing style.