The Advantages and Disadvantages of Having a Younger Athlete on a High Level Team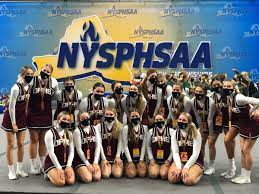 A topic that has been up for debate for many years is whether or not younger athletes should be allowed to play on higher level sports teams. Many of these opinions come from high school teams. Some have underclassmen on varsity teams and even middle school athletes on junior varsity or varsity. Many parents and coaches think that this is a good thing, but digging deeper reveals the disadvantages that come attached. One of the main sports at Orchard Park High School that has a history of pulling up younger athletes is the cheerleading team. I took time to interview Jill Manka, the head varsity coach of the cheerleading team, about her in-depth views on pulling athletes up.
Have you pulled up young athletes to compete on your JV and Varsity teams?
"Yes. But, I definitely don't do as much as I did six to four years ago."
How old were most of the athletes you were pulling up?
"Mostly seventh graders to freshmen. Most of the seventh and eighth graders were on our JV team because we didn't have a strong modified-level team at the time."
How old were the athletes that you were specifically pulling up to Varsity?
"The youngest girl I ever pulled up to Varsity was a seventh grader. She was exceptional, though—strongest on the whole team. Other than that, I try to limit younger athletes on Varsity unless it's necessary."
What would be considered necessary?
"If we need an athlete to replace someone because of an injury or even if the athlete is not able to do what we ask, we sometimes will pull up a freshman or sophomore who can do the job."
Why wouldn't the middle school athletes be on the modified level team?
"We have a better modified program now, which is why we have less middle schoolers on JV, but in the past we would have little seventh graders coming in, tumbling better than the high schoolers and it didn't make sense to hold them back."
Are there currently any middle schoolers on the teams right now?
"There's only one middle schooler on the JV team and she is in eighth grade."
What made her stand out that caused you to pull her up?
"She obviously had the skill level to be up and is a strong tumbler and base. There are also a few girls on the modified team that have the same skills but she just showed the most maturity."
Are there any younger athletes on Varsity?
"We have a freshman and two sophomores on the team right now. The two sophomores have been on varsity since their freshman year."
Were they pulled up for the same reasons?
"Yes. All three of them are very strong in either tumbling or stunting and fill in the holes we needed."
Is there more that goes into deciding whether or not an athlete should be pulled up besides skill?
"Definitely. One of the biggest things we look at is the maturity of the athlete. You know, if they can handle being on a team with older athletes, and the intensity of practices and competitions. And also stuff like how long they have been in the program and how their attitude has been in the past are taken into account as well."
Do you believe that pulling an athlete up benefits them in the long run?
"Yes and no. I think at first it pushes them and helps them grow and get stronger, but I have noticed a trend with my athletes who were pulled up at a young age are slightly worn out now. Especially the athletes who were on JV seventh through eleventh grade. I mean, that's four years of being on a JV-level team which can wear them out physically and especially mentally. Many athletes at that point have actually quit in recent years and that's why I am starting to keep kids on the teams they're supposed to be on so they are not on a team for more than like, two or three years. Of course there are some exceptions where we really need someone pulled up."
Is there ever any drama when pulling athletes up?
"There always is. We get a handful of girls wondering why they weren't the ones pulled up, bad attitudes, and even parents that get mad. We are always more than happy to explain our reasoning to an athlete that is confused because we always have a method to our madness. And then sometimes the older athletes will get mad for a bit because they might see the girl as a 'replacement' and get nervous. But after a few weeks everyone kind of forgets and it just becomes the new normal."
As discussion continues, there appears to be no real answer to this debate. Opinions can go back and forth, both sides backed by logic. As this cheerleading season comes to a close in a few weeks, ten seniors will graduate from the varsity team, which is over half the team. This will leave many younger athletes determined to clinch one of those positions on the mat. It will be interesting to see how Jill and the other coaches will run next season so that they can be the best.