Get Outside This Spring!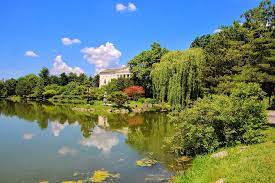 As winter comes to a close and warm weather seems around the corner, you may be at a loss for fun—and Covid-19-friendly—ways to get outside with friends this spring in Buffalo. So here are three activities that embrace the balmy weather while adhering to Covid-19 precautions.
The Albright-Knox Art Gallery in Buffalo is offering free-of-charge outdoor film screenings throughout the month of April, featuring movies such as The Princess and the Frog, Black Panther, and Spider-Man: Into the Spider-Verse. The films are being screened in the Albright-Knox Northland parking lot, and complimentary popcorn is provided. The gallery asks that while in attendance masks are worn and social distancing practiced. Cars parked in the lot can tune in to the sound on the radio, or chairs and blankets can be set up. Visit the Albright-Knox website at https://www.albrightknox.org/find-event to find dates and movie times. 
The Buffalo and Erie County Botanical Gardens is offering an abundance of events, as well, in April, but one stands out in particular. The Gardens After Dark exhibit highlights the gardens' spring flowers by bathing them in vivid lighting. Visitors take a self-guided tour (any time from 6:30-9:00 p.m.) to experience nature in a new light (pun intended). Reservations for any event at the Botanical Gardens are required, so visit their website at https://www.buffalogardens.com/pages/buffalo-gardens-calendar to purchase e-tickets before attending.
If you have ever been to, or seen pictures of, the National Cherry Blossom Festival in Washington D.C., then you know what a sight it is to behold. What you may not have realized is that you can experience a smaller-scale—but still impressive—cherry blossom festival right in Buffalo. 
At the end of April, the Japanese Gardens in Delaware Park features beautifully blooming cherry trees. The Japanese Gardens' history dates all the way back to the 1960s. In December 1962, Buffalo joined the United States Sister City International Initiative, which was created by President Eisenhower. His goal was to foster connections between cities and citizens around the world. As a result, a connection forged between Buffalo and Kanazawa, Japan. In 1971, a plan formed for the construction of the Japanese Gardens, and by 1974 they were completed. The gardens represent the sister connection that the cities of Buffalo and Kanazawa have, and the designers took significant inspiration for the 6-acre garden from the aesthetics of the gardens in Kanazawa. Visit the Japanese Gardens from April 20th to May 1st to experience the Buffalo Cherry Blossom Festival in full swing. For more information visit https://www.buffalocherryblossomfestival.org/.