Senior Olivia Newlove on this Year's Musical, The Theory of Relativity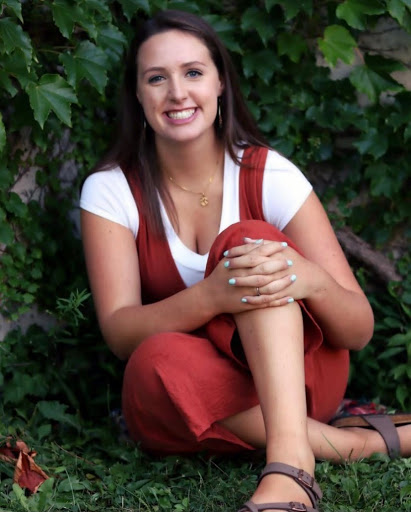 Story update: The Theory of Relativity will take place May 1 and May 2.  Each cast/crew member will be given 2 tickets per night, creating a small live audience for each performance. The May 2nd performance will be recorded. It will be edited and released on May 21 and available on the District website until May 31. The cost to stream the recorded performance will be $15 per device.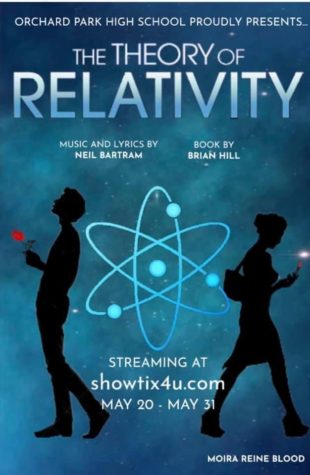 Olivia Newlove is a senior at Orchard Park High School who is performing in this year's musical, The Theory of Relativity. After last year's show the Sister Act was cancelled in March 2020 due to the Covid-19 pandemic, it's very exciting that the music department is able to put on a show. Olivia will discuss how the musical will be different this year and what obstacles they have had to overcome to make the show possible. 
How long have you been doing the musical?
Olivia Newlove: Including elementary and middle school, this is my ninth school musical. I've done the high school musical all four years. 
What is the musical this year, and what is it about?
ON: The musical is called The Theory of Relativity. It's about how all of these different people with different experiences and lives are interconnected. It centers around science and shows the progression of each character. Then, at the end of the musical, one of the characters explains how all of their stories relate. 
What is your role?
ON: I play someone named Caroline. She has gone through a lot of trauma with her abusive ex-boyfriend, who controlled her life. My solo is her singing a song called Me and Ricky. She talks about how he abused her, how she overcame it, and how she changed because of the relationship. 
Did Covid 19 and the precautions the cast has to take because of it go into choosing the musical this year?
ON: Yes, this musical has no choreography, so I think that's one reason Mrs. Szczepanik  [musical director]  chose The Theory of Relativity. She wanted something for the seniors; smaller, not as big of a show as previous years. There are also more solos in the show, instead of a lot of group numbers. Overall, it's less of a big project and is a lot more manageable. 
How did you feel when Sister Act got canceled last year? Tell me about the day you found out.
ON: It was the worst feeling ever. I remember eighth period that day when someone came over the loudspeaker and said for everyone in the musical to go to the auditorium. So we all went down there. We knew Covid was a thing but didn't really think anything of it. They told us it was canceled for opening night. We didn't really understand what was happening and if all of the shows would be canceled or not. Most of us burst into tears. I remember crying, because it was all of the seniors' last show, and they weren't going to be able to perform. It was really eye-opening and showed me how big of a deal Covid was. It was really sad. We all worked so hard on it. I felt so bad for everyone that had a more significant role.
I know that instead of an in-person audience, people were able to stream it online. Was there a big turnout?
ON: Definitely. Some of the principles were in the audience, and the stream had a lot of viewers. I remember going on the live stream and seeing all the viewers, which was really cool. It was a bigger audience than anyone had expected. 
Did anything positive come out of having the show canceled? Did anything surprise you?
ON: Yeah, it was really cool. Actually, I was surprised that we were able to do it. It was definitely different. It showed me that you don't need an in-person audience to offer something that you worked on or perform how you usually would. 
How did you react when you learned that you would be able to do it this year?
ON: It was so exciting. I remember Mrs. Szczepanik saying she didn't understand why we couldn't put on a show if sports were allowed to continue. She went to the Superintendent and Board of Education and had a conversation with them. She expected them to give her a hard time about it, because it was definitely a reach, but they were really understanding and supportive. They wanted us to be able to do it. I was shocked when she told us we would be able to do it, as I kind of prepared myself that there wouldn't be a musical this year. 
Are you disappointed that it has to be different this year?
ON: Yeah, I'm thrilled that we have the opportunity to do it, but do I wish we were able to do it to the extent that we have done it in the years before. Definitely. It affects us outside of the auditorium too. We aren't allowed to have any of the cast bonding experiences, like we usually do. We can't go to everyone's houses or have a sleepover with all of the girls. We've been trying to bond as a cast the best way we can, but overall I'm just grateful that we can perform at all. 
How was the audition process different this year? 
ON: Mrs. Szczepanik closed out the auditions to just the people in choraliers and those who have been in the shows in previous years. So that means no freshmen. She really wanted something for the upperclassman, because she knew it would be our last year and wanted us to have that last special thing. Usually, when auditioning, we would sing a song and do a monologue, but we were behind glass this year. Because we were behind glass, we were able to take our masks off, which was nice. 
Has practice been vastly different?
ON: So it's less practice than usual. Usually, we would have practice every single day until five. We typically are split up during practice too; but now instead of being in the chorus room at times, we're all in the auditorium. We all have our masks on, making it hard to hear everyone because it muffles their voices. It's super hard to block everything. That means to put everything together, combining the proper emotions, singing, staging, etc. 
When it's your turn to sing, do you have to keep your mask on?
ON: As of now, we think soloists will be able to take their masks off when they're on stage. But in the bigger numbers with the entire ensemble, we'll have to keep them on. Mrs. Szczepanik ordered us clear masks to wear during those parts. We haven't worked out all the details yet or figured out how well our microphones will work with the masks on.
Is it hard to project your voice wearing a mask?
ON: Oh, for sure. You have your loud singers, like me. I don't really have a problem with it, but quieter singers definitely struggle more and have a hard time projecting. It can be hard to hear everyone and the individual parts, making it challenging to blend our voices or even know what we sound like altogether. 
What other changes have the music department had to make in order to make the musical possible?
ON: In a normal year, we would have this big pit filled with band kids, but this year, there are only three people playing instruments. Another big thing is costuming. We are trying to do it out of our own closets. 
Are the characters in the show wearing regular clothes?
ON: Yeah, the setting is a physics classroom, so we're all in our school clothes, but certain characters do have unique clothes they have to wear. 
What technical changes or new services had to be put in place this year? 
ON: Usually, we get the show recorded for a DVD, and someone comes and records it. Many of the specific details on how we're going to record and stream the show are still being worked out. But the department will definitely have to figure out a way to stream it, as that's how most people will be watching it. 
Is anyone able to watch the show in person?
ON: It's not definite yet, but we think two people per cast member will be allowed to come per night. We have two nights.
How can people watch the show?
ON: It's not for sure, but we think it will be recorded when we perform it, and then there will be a two-week period for it to be edited and put all together. Then, anyone will be able to buy the show and watch it. 
This year's musical has been a lot different already, starting with choosing what show to put on, all the way to how it will be watched this year. Mrs. Szczepanik and all of the kids in the musical have worked really hard and have made a lot of sacrifices in order to make The Theory of Relativity possible. Although there is no concrete date yet, keep your eye out for an announcement sometime soon on when and how you can watch.