Words from the Halloween Costume Contest Winners
On Friday, October 29, Orchard Park High School held its annual Halloween Costume Contest. Many students participated, sporting some of the scariest, funniest, and most creative costumes of the year. The energy in the Commons was lively, and the audience was full of applause and laughs. I decided to speak with a few of the winners to hear their thoughts.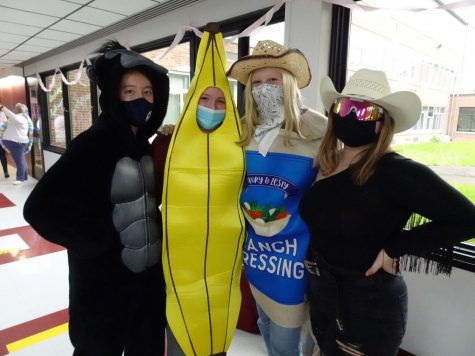 Emma Baun and Stella Machowski, winners of Most Creative Group Costume (Ranch and Cowgirl)
What did you guys win today?
S: We won most creative because we're a cow girl and a ranch! [both laugh]
How do you guys feel about winning?
E: I'm pretty excited, I haven't done a costume contest, so I'm kinda glad that I won my first time.
S: I'm proud! I made her come, and we conversated this in our media class, so I'm happy we won.
This is cute! It's a cute outfit; congrats you guys!
E & S: Thank you!
Owen Dorsheimer, winner of Funniest Costume (Welder Ostrich)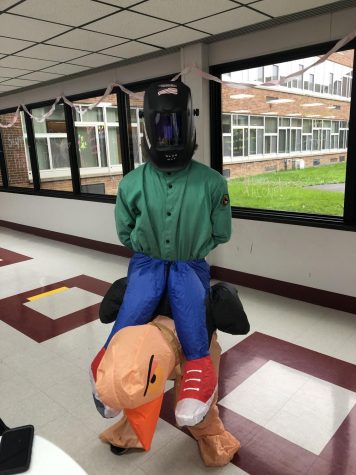 What're your thoughts on winning?
O: Honestly, I was kind of surprised because there was some pretty good competition.
When they announced your costume, I laughed out loud. I thought no way is that a thing.
O: I pieced it together, and yeah, here we are.
What's your favorite costume you've ever had?
O: My favorite overall… I mean I'd probably have to go with this one. At first, I thought of wearing just the welding stuff, and then I thought, 'wait I have this'!
Thank you! Happy Halloween!
O: You too!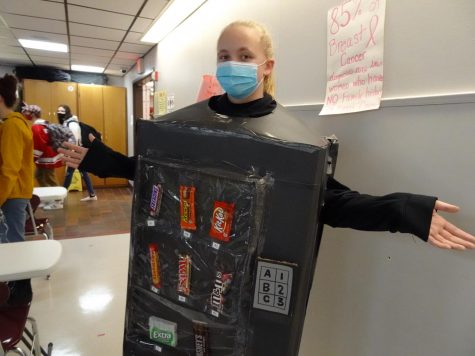 I spoke with local school celebrity, Courtney Duggan. We chatted about her costume and her Halloween countdown videos featured on the morning announcements. 
Courtney Duggan, winner of Most Creative (Vending Machine) 
How do you feel about being a winner today?
C: I feel great, you know? I don't know, I feel like I'm not a winner as often as I'd like to be. [laughs]
The win is deserved! It's deserved.
C: Yeah, I put a lot of effort and time into my costume this year.
It's very cool, I love it. I love the videos on the announcements, too.
C: I love making the videos- I love the videos on the announcements.
It was such a fun start to the day, I really liked them.
C: Thanks, I've gotten a lot of good reviews and I also… there's a bunch of homerooms that really enjoy the videos, and then I found out there's a couple of homerooms that despise it. I feel like it's just sort of made the holiday a bit more special everyday, like hearing what people think about Halloween and making it a bit more exciting then it usually would be. 
Ooh, you should have a Christmas comeback!
C: I will! I'm gonna do a Christmas one; I wanna do a Valentine's Day one… and then maybe a final two weeks of school kind of thing. But I'm still not too sure yet! It was a bit of a heavy workload, like editing all the videos, but I didn't really mind, because I wanted to edit it, so it wasn't the worst thing.
What's your favorite costume that you've ever had?
C: Okay, there are two costumes I really enjoyed. Fifth grade, I was a rubix cube, which was great. And then in 10th grade, I was a shopping list. I really like being inanimate objects for some reason. I just think it's fun!
Thank you so much! Happy Halloween!
C: Happy Halloween!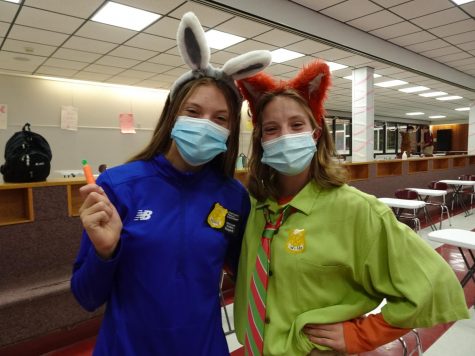 I also spoke to contest MC, Annie Henrich.
Annie Henrich, MC as Nick Wilde & Carissa Dunlap as Judy Hops
What was it like being the MC?
A: It was a lot of fun because I love Halloween, I love seeing all the costumes. Also, when we were planning this I thought no one was going to show up. I'm like "eh" because walking through school, you don't see many costumes, so it's nice when all the people who put a lot of effort into their costumes show up for this. I was Nick Wilde with Judy Hops!
Any thoughts, Judy Hops? 
C: It was fun! It was very fun.
A: It was a lot of fun.
What are your favorite Halloween costumes you've ever had?
A: That's a good question. One time I was El, from Stranger Things. That was a pretty cool one. I like that one.
C: Probably last year, we did a good group costume last year.
A: Last year was good!
C: We were Monsters Inc. We made really good costumes, like I made tutus and stuff. We couldn't wear them to school because of the schedule, but it was still fun.
That's so cool, thank you guys so much! Happy Halloween!
A & C: Happy Halloween!
Congratulations to every winner and thank you to those I interviewed! I hope everyone had a safe and fun Halloween.