Orchard Park Cheerleaders Affected By Vaccine Mandate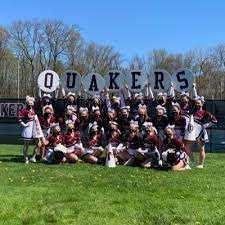 In May 2021, the Orchard Park High School Varsity Cheerleading team was crowned the Section VI Champions, which normally would take them right to the New York State Championships. Unfortunately, COVID would take away this moment for the team and coaches.
Just after the section championships, work for the next season had begun. 10 hours a week, the team worked hard for one particular goal. The New York State Championships for 2022, where they can attempt to earn a title.
On December 7, Jill Manka, head coach, was informed of a new mandate for the state championship. The championships are held at the Rochester Institute of Technology, a private college. The institute decided to follow it's same vaccine mandate that is required to be at the school. 
What does this mean? It means that all coaches, staff, athletes, and judges must have proof of both vaccination shots in order to attend the NYSPHSAA Cheerleading Championships. Random vaccination checks will take place and everyone will have to have their Photo ID and vaccination card. The second shot must be administered by February 19th, 2022 in order to attend the event.
This was very difficult news for the cheerleading community. Athletes that are not vaccinated will not be able to attend the championship which heavily impacts the whole team. The Orchard Park cheerleaders are especially affected by the mandate because it could cost them their chance for a title this year.  I spoke with a few members of the team to hear their thoughts on the situation.
Gabby Dempsey addressed her frustration towards having to redo all their work."It screws up our team because if we do go to states we are going to have to rearrange our routine which we won with at sectionals."
Many of the members talked about how the team will be heavily affected by losing the unvaccinated athletes. Alex Irizarry said, "There are girls on our team who can't get vaccinated because of their parents' views, not even their own, and they aren't old enough to make their own decision on the matter. So if we do make it to states we won't be able to compete because these girls are huge impacts to our team."
While most addressed their anger on the mandate affecting the team in a bad way, a member gave her own opinion on the matter.
Cambelle Catanzaro said she feels "safe" and that "it's a close contact sport and with so many people from so many teams. It's a high risk environment in general."
It appears that Rochester Institute of Technology has no intentions of changing the mandate despite all of the controversy. Most of the Orchard Park team remains devastated by this news. Alex Irizarry, captain and a six year member of the program, said "It's our senior year and it kinda sucks. So many student athletes have been negatively impacted by the pandemic.".
More hard work, passion, and commitment is what the Orchard Park Cheerleading team will need to move forward.