Virgil was Here
Late fashion designer Virgil Abloh broke barriers and paved the path for black creators. His legacy lies at Louis Vuitton, and at his own brand, Off-White. Abloh didn't see himself as a designer, but as a maker. He was involved with music, architecture, and a variety of collaborations. To end Black History Month, I'm shining a light on this trailblazer, who left a whole new world to generations after him.
Abloh grew up in Rockford, Illinois. He was surrounded by hip hop and skate culture, which later heavily influenced his designs. His mother was a skilled seamstress and taught him to sew. He got a degree in architecture from the Illinois Institute of Technology. While studying here, famed architect Rem Koolhaas was in the process of designing a building for the campus. He had previously worked with Prada, which sparked Abloh's interest, eventually leading him to get into fashion.
In his early fashion days, Abloh designed T-shirts. He wrote and designed for a fashion blog called The Brilliance. In 2009, he got an internship with Fendi, alongside Kanye West. They become close, with West eventually naming Abloh the creative director of his agency, Donda.
From there, Abloh founded his own line, Off-White. The brand is easily recognizable through it's designs featuring zip ties, quotation marks, and barricade tape. He bridged street wear with luxury clothing. By 2018, it surpassed Gucci as the hottest label in the world, indicated by the Lyst Index. Through Off-White, Abloh collaborated with major brands like Nike, Ikea, and Evian.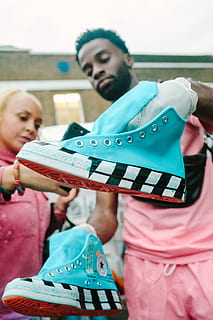 In March 2018, Abloh was named the artistic director of Louis Vuitton's menswear ready wear line. While he was already one of the few black designers at the major fashion house, he was also the first person of African descent to lead the brand's menswear line. In July 2021, he gained a new creative position over 75 of Louis Vuitton's brands, making him one of the most successful black executives, while at the most powerful luxury group.
For Abloh, clothes weren't just fabric. They were pieces of art relating to music, politics, and philosophy. Abloh's pieces are an iconic image of today's modern era. Through his unique designs, he built a new world and forged a legacy to leave behind. He changed the image of fashion forever while creating a space for black creatives.
In 2019, Abloh was diagnosed with cardiac angiosarcoma, a rare type of heart cancer. He died at age 41 on November 28, 2021 in Chicago. Louis Vuitton paid tribute by dedicating their 2022 spring menswear fashion show to Abloh. His friends, family, and fans were in attendance. On top of this, Louis Vuitton display windows across the world were dedicated to him. Both tributes had the theme of "Virgil was here".