Woodshop Plants Trees to Celebrate Arbor Day
This past Friday, Orchard Park High School's woodshop class held a tree planting party in observance of Arbor Day. I visited room 112 to see the process and find out more. 
"Last Friday was Earth Day, and today is National Arbor Day, so we've been doing Tree Week," says woodshop teacher, Mr. Erlandson. "We've been learning about how trees grow. We went outside where we did tree identification, tree height estimation, carbon offset, and carbon sequestration. This is kinda determining how much carbon trees are absorbing, and looking at their impact on New York State both economically and socially. Now we're planting trees. Who doesn't want to plant trees?"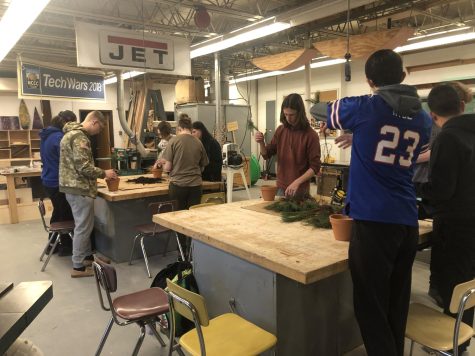 Mr. Erlandson is also working to incorporate sustainability topics into his teaching in order to gain Orchard Park High School "Tree Campus" accreditation through the National Arbor Day Foundation Program. Through this program, K-12 schools are able to gain recognition through collaboration, education, and celebration.
During the period, students went from station to station planting their own trees. First, they filled the bottom of their own clay pots with some soil. Then, they picked their own White Pine seedling. These trees can grow up to 80 feet tall and 25 feet wide. The seedling was placed upright in the pot. Next, the students filled the rest of their pot while slightly shaking their seedling in order to get soil consistently between all the roots. Finally, they moved to the hydration station where they watered their new plants.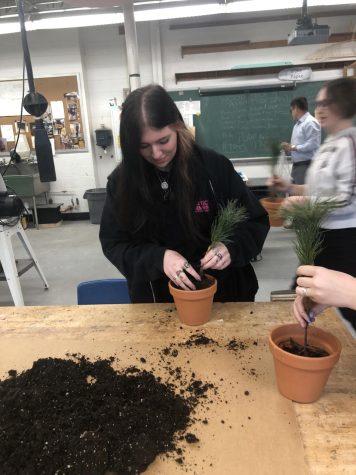 "I like this because we're doing something good for the environment," says senior William Collesano.
The students also had fun with picking their tree's names.
"My tree's name is Betty," says sophomore Mila Vitz. "She warms my heart."
Mr. Erlandson has made significant efforts to keep his students involved with sustainability in order to keep them informed and to have OPHS awarded with recognition. Now, more than ever, it is vital to inform and look into parts of our environment. Trees play a particularly significant role in our atmosphere. By taking students outside and having hands-on activities, like tree planting, Mr. Erlandson was able to create a fun learning environment while bringing attention to something valuable.