Unified Basketball: Accessibility, Inclusivity, and FUN!
Squeaking shoes, dribbling balls, screeching whistles, and cheering fans pulsed through the OPHS gym last Friday. The gym was heavy with the familiar scent of athletic pride and anticipation. Devoted parents and loved ones delighted in the joyful atmosphere while dedicated coaches shouted encouragement from the sideline. Athletic Director Mr. Hack paced and watched intently.  If this sounds like a typical home basketball game at OP, you're right!  Well, mostly right. 
Last Friday was the first home game for the newly-formed OPHS Unified Basketball team; they played against the Frontier Falcons. The OPHS Unified Basketball team is an inclusive team composed of OPHS athletes with disabilities and neurotypical partner athletes.  
Unified Sports, a program supported by the Special Olympics, has been around since 1989, but it is only in more recent years that many Western New York high schools have formed teams. Last school year, OPHS formed a unified bowling team, and this year they've added unified basketball. Unified sports are recognized by the NYS Public High School Athletic Association (NYSPHSAA) and are an officially recognized Section VI ECIC team. 
According to the NYSPHSAA website, teams participating in unified sports follow three guiding principles: Inclusive sports (combining athletes with and without intellectual disabilities in training and competition), Youth Leadership & Advocacy (providing all students the opportunity to lead), and Whole-School Engagement (giving the opportunity for all students to participate in school events). 
OPHS teacher, Mrs. Grossman coaches unified basketball with the help of student coaches Scout Moskal and Lily Buckley.  "It is truly a heart-warming event, and everyone could use more of this," Mrs. Grossman commented in a recent email to The Voice.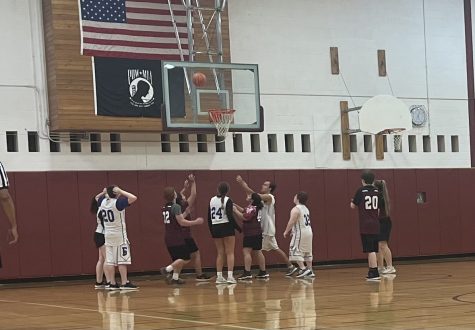 The recent game was well-attended and well-received. All the elements of a typical basketball game were on display, with a few meaningful differences. One key difference was that each basket scored was met with equal cheer from all fans. Another distinction is that some rules of the game are adapted to accommodate students of all abilities. Partners play alongside athletes with the goal of ensuring that each athlete has the opportunity to meaningfully participate in the game. 
"Being on the Unified Basketball team means more than just playing basketball; it means giving kids of all abilities a chance to be involved and have fun," freshman partner-athlete, Salem Ben Abdallah noted.  
When asked how he felt about the first game, 8th grade athlete Jonathan Sheehan, summed up the experience as "Good! I want more!" In response to being asked if he loved all his teammates, Jonathan gave an enthusiastic, "Oh yeah, baby!"
"I am so glad that I attended the Unified Basketball game," noted OPHS Biology teacher and STAP Comm advisor, Mrs. Rominger, who attended with her husband, Doc Rom. "There were smiles everywhere…the players, the coaches, the parents, and all of the spectators. We plan to attend again on Wednesday," she added.
Last night, Wednesday, May 4th the Quakers took on the Lancaster Legends in an at home game. 
The next home game is on Monday, May 23 at 5pm in the OPHS gym, where the Quakers will take on the Clarence Red Devils. All are welcome to attend this free event, which is sure to lift spirits and leave smiles on faces!