OP Hockey Alum Talks Life after OP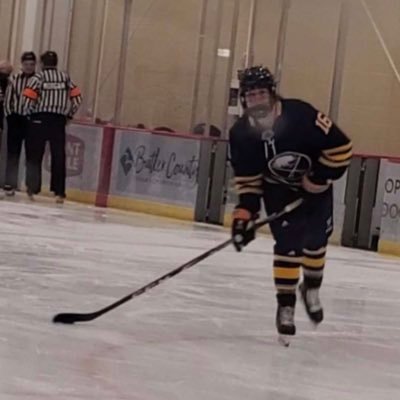 OPHS alum Bryson Miller has played hockey for most of his life and has had a successful career. This has led him to the Buffalo Jr. Sabres, followed by a first-year team, the Buffalo Stampede. Despite the Stampede's rocky start this year, Miller is still able to reminisce about the good old days on the ice for Orchard Park. I sat down with him to hear about his time with OP Fed Hockey and to hear where he is now.
What made you decide to play Hockey?
BM: At a young age, I was always watching the games with my dad. I really grew interested in the game from playing hockey in the driveway and mini sticks with my dad. 
How long have you been playing Hockey?
BM: I have been playing hockey since the age of 4, and I began to learn how to skate at 3 years old.
What teams have you played for?
BM: When I first started playing hockey, I started playing house league at West Seneca. Then I spent my first years of playing travel hockey for the Cazenovia Chiefs. After that, I then played for the Buffalo Regals; then went back to play travel for the West Seneca Wings; then went on to play for the Cheektowaga Warriors; and then played for the Buffalo Jr Sabres. Now, I play for the Buffalo Stampede in the USPHL. 
Have you enjoyed playing hockey?
BM: I have enjoyed playing hockey since I learned how to skate. All of the skills I have learned,  not only on the ice, but also off the ice, have made me a better person, and the game has taught me many life lessons.
Were you always a starter for Orchard Park?
BM: No, I was technically not always a starter for Orchard Park. I really embraced a top line role my senior year. I was also a captain for my senior year.
How will you remember Orchard Park Hockey?
BM: I will remember Orchard Park hockey as some of the best hockey years of my life. It was always a good time, and all of my teammates made it even better. I will always remember the friendships and of course the good memories.
What was your favorite moment playing at Orchard Park?
BM: My favorite memory while playing for Orchard Park was scoring the game winning goal in the semifinals my senior year  to help take the team to the Section VI finals for the 2nd straight year.
How did your first year of hockey go after High School?
BM: I had an interesting experience playing for the Buffalo Jr. Sabres due to Covid, but other than that it was a fun year, and it definitely helped me to become a better player.
Where will you be playing this year?
BM: I am currently playing my first year of junior hockey playing for the Buffalo Stampede. It is their inaugural year, and we are a brand new team.
What made you want to play in Buffalo?
BM: I love the city of Buffalo, and I always want to represent my hometown in any way possible, and I felt it would be a great experience to be at home playing the game I love.
What are your plans for the future?
BM: Next year I will hopefully be going to my 4 year college and playing Division III hockey. If that doesn't go as planned, I will most likely be playing another year of junior hockey to help me gain more experience and make my game better.
How was winning Nationals in 2019?
BM: Winning Nationals in 2019 was probably one of the best moments in my life. We were one of the top teams in the country, but in the finals we played the number one team in the country. We ended up winning in a shootout, and I had the game winning goal. It was probably the most exciting moment of my life and left me at a loss for words. I will never forget the feelings of winning one of the biggest tournaments in USA hockey.
Best season you've had in your career?
BM: The best season I feel I have had in my career was probably my senior year of high school. It felt amazing to have such an important role on the team, and to put up 36 points in 20 games is always a good thing. 
When do you think your career will end?
BM: I try not to think about when my career could be over. The end of my college career will most likely be when I will be done playing competitively, but I am sure hockey will always be a part of my life for many years to come.
The Buffalo Stampede are playing Friday, November 5, 2021. Hopefully they can break their 11 game losing streak then turn their season around. But Bryson's career so far has been a dream come true for him, and he will continue it for as long as he's capable. Hockey has been his heart and soul.