Students in Entrepreneurship in Production Systems Class and their Seasonal Christmas Ornament Sale
As part of the curriculum, students spent part of November and December designing, creating, marketing, and selling laser cut ornaments that were available throughout the entire school district. 
Two designs were being offered, each with a custom option. They're snowflakes, one with a Santa-hat-wearing Quaker head engraved in the center, and the other has the year "2021" in the center. Standard ornaments were $5 each, and custom ornaments were $7 each. Orders ended on December 8th and will be delivered by Christmas break.
Students quickly developed a process to produce the ornaments. Everything starts on the computer, and if a custom text option is added, the design is altered. The file is then sent to the CNC laser, where a sheet full of ornaments is automatically engraved and  laser cut. After that, they are transferred to the workbenches, where they are systematically sanded smooth, given ribbon, blown off with compressed air, and receive their final quality control inspection.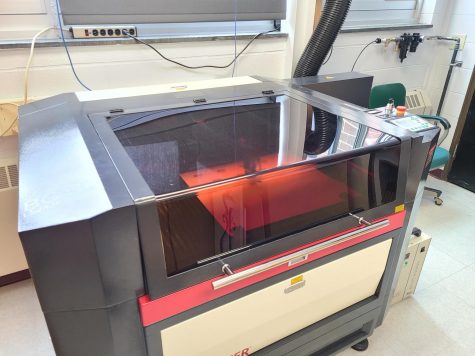 Mr. Dewald, the teacher of the class and the General Manager of the operation has been running a tight ship, constantly telling the students that "customers don't buy excuses." He has ensured The Voice that "every single ornament that leaves our doors will be perfect, without exception. Keeping our customers happy is key."
All the money raised will go towards the Orchard Park High School Technology Department, while the students keep nothing. They plan on saving the money to one day buy a new piece of CNC equipment, similar to the CNC laser currently in use.
"I feel that it is a great Christmas gift idea.  They are very inexpensive and high quality, which is the right way to go," said senior Maddie Budney.
Sales exceeded expectations, with profits surpassing $1000. The class is following in the footsteps of a former student, David Cappello, who did a similar sale 3 years ago with his own design through his Corporate Economics class, which was very successful. 
Now that their ornament sale is done, the class will move on to the production and sale of maple cutting boards.
"I am very excited to move on to our next project. We have learned a lot about sales/marketing through the ornaments, and the information will be very useful. I feel like this has been one of the most important classes I have ever taken in high school," said Jacob Cassidy, President of the class.