Blanket-Making Spreads Kindness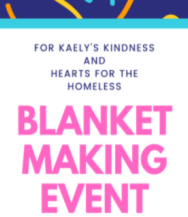 Orchard Park is warming people's hearts and helping others as a result of their recent blanket making event. Students brought materials and gathered in the commons to create blankets for people in need.
The charities that will benefit from the event include Kaely's Kindness, a charity also supported by Cancer Awareness club, and Hearts for the Homeless. The former will ensure blankets are given to teenage girls fighting cancer, and the latter gifts them to the many homeless people living on the streets seeking warmth. 
The event's purpose was to help all kinds of people in need, and Orchard Park students thoroughly enjoyed making blankets and doing something good for the community.
Orchard Park has hosted several other fundraiser events that have raised money for those less fortunate. For example, there was a fundraiser recently for people struggling in Ukraine during a time of war and uncertainty.
Needless to say, Orchard Park has a knack for philanthropy, and the various events through the school are certain to have a positive impact on many people throughout the area.